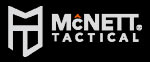 Features
Cravat/Triangular Bandage in ACU Camouflage Pattern
Water Repellent Fabric
Antimicrobial Treatment Prevents Mold and Mildew
Multifunctional: Sling, Swath, Bandage, Padding, Tourniquet, Ankle or Joint Wrap, Bandanna
Perfect Addition to Emergency Supply Kits
Made in USA
No first aid kit should be without a high-quality cravat like the CamoVat Cravat Triangular Bandage by McNett Tactical. This essential piece of medical gear can be used as a sling, swath, absorbent wrap, bandage, padding, tourniquet, joint wrap or bandana. With an antimicrobial treatment which prevents the growth of mold and mildew, you can leave this cravat stuffed in your ruck or aid pack without worry. Featuring an ACU camouflage pattern and water repellent fabric the CamoVat cravat is the perfect addition to your emergency supplies. Includes two safety pins.
Make sure your emergency kit or go bag is stocked with necessary medical gear like the CamoVat Cravat Camouflage Triangular Bandage by McNett Tactical.
Technical Information
Dimensions: 37" x 37" x 52"