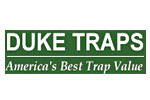 Coil Spring Traps are foot-hold restraining devices used to catch and hold wild animals. These devices have been used for over a century as a cost effective and efficient tool for managing wildlife populations. Coil Spring Traps are manufactured from steel components and powered by a set of compact coil springs. If you are just looking to get rid of a few nuisance varmints or are trying for serious predator control, these traps are up to the job. Offset jaw traps are required by law in many states due to their reduction in injury to animals. The offset design allows for blood to continue to flow to the animals foot reducing discomfort and calming the animal down. Offset jaw traps work great in areas where non target animals or domestic pets may be present in high numbers.

Technical Information
Trap Type: Coil Spring
Size: #3
Jaw Spread: 6"
Target Animal: Bobcat, Coyote, Lynx
Material: Steel