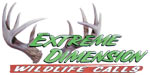 The Phantom Pro-Series Wireless Calling System offers many fine features to help all your calling needs. The Phantom Pro-Series Wireless System operates on 4 AA batteries in the remote receiver and 4 AA in the transmitter allowing for longer battery life up to 16 hours at maximum volume. This model has an on/off button with a light on/off indicator, low battery light, mute button and a volume control.

This model requires antennas on each of the units. (Included) The telescoping antenna should be placed on the receiver. An ABS all weather 15 watt speaker is plugged into the top and clipped on the back of the receiver unit, making this a compact system with the capability to place the sound away from you up to 200 yards, depending on the terrain, distancing yourself from the center of sound to ensure you remain safely undetected from your ground blind or tree stand, therefore enhancing your calling success.

This Phantom Pro-Series Wireless System comes with 1, 16 bit sound IC and 16 bit processor sound module (you choose which sound module) containing 12 sounds for calling that particular animal.

There are 7 different sound modules available, Whitetail, Predator, Gobbler, Moose, Elk, Bear, Honker with future plans for more modules to be available. With each sound module you purchase there is a faceplate for that particular sound module. No guesswork to what sounds you'll be making. The unique feature is to double the same sound or combine 2 different sounds at the same time, this can give your calling environment a more life like setting.

The Phantom Pro-Series Wireless Honker Digital Calling System contains the following sounds...Snow Goose, Snow Geese, Snow Goose Flock, Snows Feeding, Young Snows, Snow & Blues, Snows & Canada's, Canada Goose, Canada Geese, Canada Flock, Canada Feeding, Canada Comeback

It is recommended that you check with your local DNR for legal use of electronic wildlife calls.
Technical Information
Dimensions: Not listed by manufacturer
Weight: Not listed by manufacturer
Speakers: 1 Horn
Connectivity: Not listed by manufacturer
Number of Included Sounds: 12
Sound Capacity: 12
Compatible File Formats: 16 bit sound IC with 16 bit processor sound module
Remote Range: 200 yards
Battery:
Transmitter: (4) AA (not included)
Remote Receiver: (4) AA (not included)
Warranty: Not provided by manufacturer
Color: Olive Drab