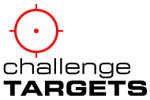 Features
Rated for most handguns and rifles
Maximum velocity at the target = 3,000 fps | Maximum energy at the target = 2,300 ft-lbs
Tested extensively with 9mm, .40S&W, .45ACP, .223 Remington, 7.62x39, and 7.62x51 NATO
Built to withstand all standard FMJ ammunition (no armor piercing or steel core ammo)
Minimum distance: Handguns = 7 yards | Rifles = 100 yards
Laser cut 3/8" thick AR500 steel target assembly fits over standard wood 2x4 post (not included)
Heavy duty Static Stand constructed of 1/4" steel with durable black powder coat finish
Static Stand has a 35" diagonal footprint that is elevated in the center to provide excellent stability
Post mount is adjustable so the target can be leveled on uneven terrain
Target plate and wood post are mounted parallel so bullet fragments do not damage wood post
Outer plate size matches the A, B, C zone of an official IPSC / USPSA metric target (11.81" x 23.62")
Reduced "A" zone flapper window measures 4" wide x 7-1/4" long
Target is designed to safely deflect bullet fragments into the ground (adjustable forward angle: 5-20 degrees)
The Challenge IPSC "A" Zone Flapper Target is built to take a beating and keep coming back for more. All hinge brackets are laser cut from abrasive resistant, through hardened, AR500 steel. Designed without welds, all plates and components are reversible to maximize their useful life. The outer plate size matches an official IPSC or USPSA target with the "D" zone removed. Shoot through the 4"x7" opening and you'll hear a distinctive ring as the paddle bounces back for positive hit detection. Ideal for handgun, rifle and shotgun training and competition.
The base of the target incorporates an innovative four point stance which elevates the center of the target, dispersing the weight to the outer four corners for excellent stability. The stand legs include anchor holes for staking if extra stability is needed (stakes not included).
Technical Information
Overall Height: N/A
Overall Width: N/A
Weight: 51lbs
Target Height: 23.62"
Target Width: 11.81"
Target Material: AR500 Steel
Plate Thickness: 3/8"
Footprint Dimensions: 27"x 22"
Minimum Shooting Distance: 7 Yards Handgun, 100 Yards Rifle