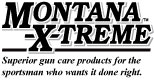 The
Montana X-Treme (MTX) 1-Piece Cleaning Rod
features the highest strength spring steel, proprietary coating technology and a thrust bearing low profile handle. The thrust bearing handle design puts the force into the rod not the handle making it less likely that your jag or brush will unscrew from the rod.
Technical Information:
Montana X-Treme (MTX) 1-Piece Cleaning Rod
Overall Rod Length:
Working Rod Length (In Description) + Handle Length
Handle Material:
Aluminum
Handle Length:
N/A
Handle Mount to Rod:
Thrust Bearing
Rod Material:
Steel
Protective Coating on Rod:
High Performance Polymer
Tip Material:
Brass
Color Coated Handles:
17 to 20 Caliber - Purple - Rod Diameter: .156"
22 to 264 Caliber - Red - Rod Diameter: .1875"
270 to 50 Caliber - Blue - Rod Diameter: .250"
338 to 50 Caliber - Gold - Rod Diameter: .312"
Note:
Length in description is usable rod length (Length from front of handle to the end of the rod).
| | | | | | | | | | |
| --- | --- | --- | --- | --- | --- | --- | --- | --- | --- |
| | Gun Type | | Caliber | | Thread Type | | Thread | | Male/Female |
| | Rifle/Pistol | | 17 to 20 | | Commercial | | 5 x 40 | | Female |
| | Rifle/Pistol | | 22 to 50 | | Commercial | | 8 x 32 | | Female |
| | Rifle/Pistol | | 22 to 50 | | Military | | 8 x 36 | | Female |
| | Shotgun | | All | | Commercial | | 5/16 x 27 | | Female |