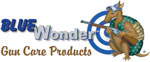 Blue Wonder Gun Black Kits are similar to the Gun Blue kits, except that they produce a dark, glossy black finish on any carbon steel. No expensive tanks or heat sources required.

Contents:

2 oz Gun Black

0.5 oz developer

1 oz gun cleaner

Notes:

Contents should allow refinishing 4 to 6 long guns.

Metal must be heated with a propane torch or hairdryer

Applies a "factory-like" black finish.

Will not affect existing black; only adheres to bare metal.

Contains selenious acid, phosphoric acid, gold, silver, copper and nickel.

Not for use on aluminum or zinc alloys.