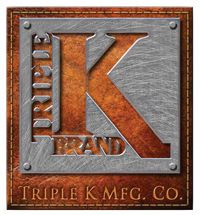 Triple K's most popular western holster! Made from a single layer of heavy 9 to 11 oz. saddle leather. It features two heavy-duty snaps which allow the holster to be used on a straight or drop belt. Suggested that the "Cheyenne" Holster be used with the #110 "Wyoming" belt or #111 "Conquistador" belt. Solid Brass Hardware
Technical Information
Material: 9 to 11 oz Saddle Leather
Finish: Oil Tanned Finish
Fits: Centerfire single action revolver with 6-1/2" barrel.

Notes:
Features two heavy-duty snaps which allow the holster to be used on a straight or drop belt.
Features brass hardware.
Features leather hammer and leg thongs.
Open Muzzle