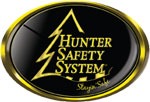 Features
Patented design eliminates hanging straps and weave-through buckles
Durable All-season performance
Deadly quiet
Two large bellows pockets, two divider pockets, two quick-access, plus two zippered chest pockets
Removable accessory straps for optics or calls
New tether strap provides more shock absorption
Lineman's Belt and Suspension Relief Strap included
The premier name in treestand safety harnesses has changed the way that hunters thing about safety harnesses with the Elite. This harness is the most comfortable and user friendly harness ever developed by Hunter Safety System and takes comfort to a whole new level. This patented design eliminates dangling straps and weave-through buckles, just zip it up, hook up the leg buckles and you are off. With eight pockets to keep your gear organized and removable accessory straps for your rangefinder or binoculars, you will forget that this is a safety harness; it will become your favorite piece of hunting clothing. If you are tired of traditional safety harness designs, step into something different with the Elite.
Technical Information
Weight Rating:
Small/Medium: 100 to 175 lb
Large/XL: 175 to 250 lb
2XL/3XL: 250-300 lb
Fits Torso:
Small/Medium: 28" to 42"
Large/XL: 35" to 56"
2XL/3XL: 48" to 60"
Weight: 2.8 lb
Color: Black