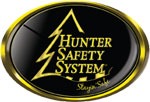 Features
Four pockets on each side for a total of eight pockets
Bino clips on each side, with hidden clips on blaze side
Smart fabrics keep you comfortable all season long and deadly quiet in any temperature
Reversible Realtree Xtra camo with Brushed tricot hunter orange
1.25" upper-body webbing, shock absorbing tether and waist buckle reduces weight and bulk
Patented HSS design eliminates dangerous dangling straps and weave-through buckles
Hunter Safety System brings you our most versatile vest yet: the HSS-PATRIOT. This reversible vest offers Realtree Xtra camo on one side and brushed tricot hunter orange on the reverse. The Hunter Safety System provides the same protection for both sides, allowing you the freedom to hunt with the weapon of your choice. The Patriot features a total of eight pockets and binocular clips on each side. The Smart Fabrics are quiet and will keep your warm in cooler weather.
Technical Information
Weight Rating:
Small/Medium: 100 to 175 lb
Large/XL: 175 to 250 lb
2XL/3XL: 250-300 lb
Fits Torso:
Small/Medium: 28" to 42"
Large/XL: 35" to 56"
2XL/3XL: 48" to 60"
Weight: 2.5 lb
Color: Realtree Xtra camo