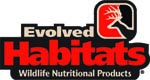 Features
Necessary vitamins and minerals
Strong aroma
Everyone knows that corn is a widely used attractant for deer. Evolved Habitats brings you an innovative attractant with a more intense corn aroma, 2x's the protein and 3x's the fat than plain ole' corn. The innovative powder attractant contains twice the protein and triple the fat of regular ole corn. The mix of whole kernel corn, soybeans and proprietary ingredients produces an aroma deer simply can't resist.
How to use block:
Place one or two blocks in an established mineral site to provide months of attraction without having to return to the site. To establish a new site, place one or two blocks in the middle of a bare spot, 4 feet in diameter. Rainfall will be needed to activate the site, allowing the minerals to fully leach into the ground.

How to use granular:

Once you have selected your site, remove all vegetation from the chosen site area approximately 4 feet in diameter. Once the ground is cleared, rake the soil to loosen and make a slight depression in the site so that it will hold some rainfall, making runoff less likely. Spread the entire contents of the bag over the site area. Do not cover the minerals. If you want immediate deer action on the site, wet down the site with a gallon of water after applying.
How to use liquid:

Pour it on the ground: All you need to do is pick your area, clear away debris and pour it out. Some of the minerals will begin slowly soaking into the soil to continue to attract deer over a longer period of time.

Pour over decaying stumps and logs: The minerals will very slowly begin to soak into the decaying wood it is poured on. Once saturated with the minerals and flavors, the decaying wood becomes a target of deer and other wildlife seeking sweet minerals in the woods.

Mix with grains or pour over feeds: Many times quality feeds go untouched by wildlife because they are unusual to the deer in the area. You can enhance your feed and jump start usage by introducing a flavor that they cannot resist. You can also allow the mineral to dry onto grain before putting it out and then broadcast the grain over a 20x20 ft. area to make them take their time eating it. Use 1qt per 25 lbs. of grain.