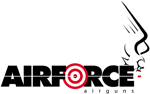 25, .22, .20 or .177 Caliber Lothar Walther Barrel
Lightweight
Recoiless
Extended Scope Rail
Pressure Relief Device
Adjustable Power
Quick-Detachable Air Tank
Available in Blue, Red or Original Black Finishes
Typical Groups: 1 inch or less at 75 yards
Air Tank Volume: 490cc
Safety: Automatic on cocking
The Condor is ideal for shooters who need a rifle that is not only more powerful than a spring-piston air gun, but is also more powerful than any other pre-charged pneumatic rifle. It is the most powerful pre-charged air gun on the market as it easily achieves 1250 feet per second in .22 caliber. The Condor is light weight (6.5 lbs) and offers adjustable power (600-1300fps depending on power setting, caliber, and pellet weight). Dial the power down for target shooting at close ranges, or dial the power up for long range small game hunting.
An integral extended scope rail allows for easy mounting of lasers, bipods, and other accessories to provide the shooter with an adaptive air gun shooting system. Designed for air gun hunting in the growing number of states that allow hunting, this system can also be used by various military and law enforcement agencies for pest control or special tactical applications.
Technical Information:
Caliber: 177 Cal, 20 Cal, 22 Cal, or 25 Cal
Weight: 6.5 lbs
Overall Length: 38.75"
Barrel Length: 24"
Ammunition: Pellet
Magazine Capacity: Single Shot
Trigger Pull: Not listed by manufacturer
Trigger Type: Two Stage adjustable
Safety: Automatic
Max Muzzle Velocity: .177: 1450 fps, .20: 1150 fps, .22: 1250 fps, .25: 1100 fps
Action: Single-shot
Power Source: PCP
Max Pressure: 3000 psi / 200 bar (Only use compressed air or dry nitrogen)
Barrel: Rifled
Scope: Not included
Stock: Ambidextrous
Front Sight: Not included
Rear Sight: Not included