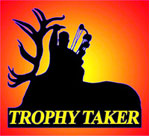 The bowhunting experts at
Trophy Taker
teamed up with the legendary Ulmer brothers to design one of the most effective mechanical broadheads on the market. The
Ulmer Edge
is packed with features that serious bowhunters demand from their broadhead. The low profile of these heads deliver pinpoint accuracy at extreme ranges ensuring you will hit your mark. Rear deploying blades deliver full sized entrance wounds upon impact and lock together at full cutting diameter allowing the blades to pivot around heavy bone. With a bone crushing stainless steel tip, the Ulmer Edge penetrates like no other mechanical broadhead. You can even lock the blades closed with a set screw for effective hunting practice without damaging your blades.
These broadheads are compatible with
Deep Six
inserts only and will not work with standard arrow inserts.
Features
True field tip accuracy due to low flight profile
Rear deploying blades for full size entrance holes
Innovative blade engagement allows blades to pivot around heavy bone
Stainless steel ferrule and tip
Practice mode allows you to shoot Edge into any broadhead target
Technical Information
Broadhead Type:: mechanical
Number of Blades: 2
Cutting Diameter: 1-1/2"
Ferrule Material:: stainless steel
Blade Material:: stainless steel
Replaceable Blades:: Yes
Quantity:: 3