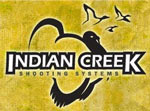 Stack the odds in your favor with the
Triumph Waterfowl Choke from Indian Creek.
This tube features Indian Creek's diamond ports to deliver extremely uniform and consistent patterns to help you bag more birds. These choke tubes come in two constrictions, one for close range decoying waterfowl and one for longer range pass shooting. Bring home more birds and impress your buddies with your shooting abilities with the Triumph from Indian Creek.
Technical Information:
Gauge: 12
Thread Pattern: Benelli Crio Plus
Popular Firearm Models: Benelli SBE II, M2, Vinci, Super Vinci and Beretta Extrema 2
Constriction: .720" (decoying) of .710" (pass shooting)
Ported: Yes
Shot Type: Hevi-Shot, steel, or heavy hybrid loads with shot sizes #2 through #8
Purpose: Waterfowl-decoying or pass shooting
Material: Steel