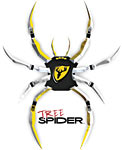 Features:
FeatherLite
ScentBlocker Trinity Technology
Shock Blocker
The Tree Spider Women's Sola SpiderWeb FeatherLite Safety Harness Bibs provide full feature safety with freedom from straps, buckles, noise, weight, and hassle. SpiderWeb's removable bungee tether provides shock absorption, control, flexibility, and security. The ShockBlocker reduces the fall arrest force felt by the body by up to 40%. Being prepared has never been quicker, easier, or more comfortable.
Many other features include lightweight ripstop fabric with Trinity Technology that is highly effective, highly breathable odor absorbing fabric that traps and holds human odor unlike any other material. There are adjustable shoulder straps and 20" leg zippers. The bibs include tree strap, removable tether, carabineer, suspension relief strap, and instruction manual.