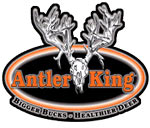 Features:
Loaded with antler and body building minerals and nutrient.
Contains scented and flavored attractants.
Durable and long lasting.
Contains Vitamins A and D.
Place on the ground near deer trails, in front of game cameras or by feeding stations to attract deer.
Antler King has created the APPLE BURST DEER MINERAL. APPLE BURST DEER MINERAL is an intense apple flavored deer mineral containing all major minerals and is mega fortified with specific trace minerals necessary for antler growth and improved overall health. Major consumption will occur between February and September, which is also when antler growth is occurring and fawns are nursing on does.
Antler King's Apple Burst Deer Block is an intense apple flavored mineral block designed to grow BIGGER BUCKS and HEALTHIER DEER. The APPLE BURST DEER BLOCK will not only attract deer to your property, but it will provide them with critical nutrients necessary for proper nutrition.