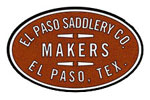 El Paso Saddlery
has long been known for using expert workmanship and top-notch components to create some of the highest-quality and most widely sought after competitive pistol craft accessories on the market. The
Exotic Crosshair,
without question, serves as evidence to the company's continued dedication to excellence. The
Outside the Waistband
design is comfortable, even while engaged in a variety of different activities, and facilitates quick access to the weapon during competition or a defensive situation. Leather lined to protect the surface of your firearm, and covered on both the front and the back with your choice of skins, this holster is nothing short of a masterpiece. Additionally, the
Exotic Crosshair
features a tension screw and hand molding to bring out both the form of the gun and the beauty of the hide.
Technical Information
Right or Left Handed Holster: Right Hand
Finish: Polished
Firearm Retention: Tension Screw
Material: Crocidile
Belt Fit: 1.25"
Muzzle Open or Closed: Open
Firearm Fit: 1911 Government