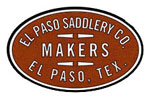 The El Paso Saddlery Dual Duty Three Slot Belt Holster is the perfect holster for duty or concealed carry use. The top-quality cowhide is hand boned to provide excellent fit and finish. The flat-back construction makes the Dual Duty comfortable for all day carry. The three slot design allows the holster to be carried strongside or crossdraw. Classic thumbsnap retention is secure while still being fast.
Technical Information
Right or Left Handed Holster: Right
Material: Leather
Firearm Retention: Thumbsnap
Belt Fit: 1.75"
Muzzle Open or Closed: Open
Firearm Fit: Springfield XD 9/40 Service Model 4"