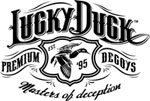 Features:

Heavy-duty steel stake

Intermittent timer

Lightweight wing design

Realistic motion

Heavy-duty direct-drive motor

The lightweight wing design, along with the heavy duty direct drive on the Lucky Duck Super Lucky Duck allows the wings to spin very fast and attract more ducks to your decoys. The Super Lucky Duck also features an intermittent timer, which adds amazing reality to your spread. This decoy features the constant-on switch but can be fitted to the Pro Series Waterfowl Remote Kit (sold separately). The durable 3-piece steel stake provides a sturdy base, while the 6 volt rechargeable battery keeps your maintenance costs down. Endorsed by the Duck Commander crew because of its effectiveness, the Super Lucky Duck Combo is a great addition to any serious waterfowler's arsenal and will help you bring more ducks in with their landing gears down.