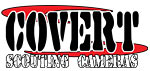 Features
Invisible "black" flash technology
Adjustable sensitivity
Time lapse mode
Adjustable resolution
The MP8 Black is packed with all of the same great features as the original MP6. Only it now has 40 invisible flash LEDs and 8MP resolution. This provides an invisible flash camera to those of us who desire security and want invisible flash technology at a very affordable price. The MP8 a color viewer included to allow you to view your images right there at your camera so you do not need to remove it to check on your pictures. The MP8 features an image burst mode to capture up to three images per trigger as well as a time lapse mode. The included Covert Game-Trakker software enables the user to turn thousands of Time lapse photos in to videos so that you can view days of activity in just minutes. You can also export your videos and email to friends or upload to the internet.
Technical Information
Resolution: 3/5/8 MP
Trigger Speed: 1.1 second
IR or Incandescent: 40 Black flash IR LEDs
Flash Range: Up to 50'
Video: Yes, 5-60 seconds
Audio on Video: No
Memory Card Type: SD, SDHC*
Memory Card Size: Will accept up to 16 GB Card
Memory Card Included: No
Multi-shot: Yes, up to 3 shots
Programming Method: LCD Menu
Viewing Screen: Yes
Battery Type: 12 AA batteries
Batteries Included: No
Photo Stamping: Time & Date, Moon Phase, Temperature
Time Lapse Mode: Yes
External Display: No
Camera Dimensions: 5.6" x 4.75" x 3"