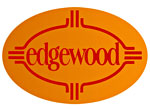 The
Edgewood Original Rear Shooting Rest Bag
is the most common shooting rest bag used by
benchrest shooters
. When filled with heavy sand, it weighs between 10 and 14 lbs. depending on body height and has a footprint of about 6-½" x 8-½". This
Edgewood Original Rear Shooting Rest Bag
is built with reinforced leather sides and heavy nylon top and ears along with a multi-layered donut base which allows the bag to sit firmly on the bench and minimizes any rocking back and forth. Bag tops and ears are made with nylon. 100%
Made in the USA
, these bags are beautifully crafted in Edgewood, New Mexico.
Technical Information:
Edgewood Original Rear Shooting Rest Bag
Body Height:
Short: 2-½"
Standard: 3-¼"
Tall: 4"
Body Width:
6-½"
Body Depth:
8-½"
Ear Height:
Regular: 2"
Short (Bunny): 1-½"
Stitch Width:
Regular: 3/8"
Wide (Shehane): ¾"
Filled Weight:
Between 10 and 14 lbs.
Offset Ears:
No
Offset Direction:
N/A
Offset For:
N/A
Notes: (From Manufacturer)
If you find, after filling your bag or after the sand has settled, that your bag bulges on the bottom or rocks when on the bench try the following: Bang the bag flat down on the bench then gently slide it into place. Slapping the bag firmly onto the bench shifts the sand back up into the body of the bag and flattens the base of the bag. By pushing - rather than lifting - the bag into place, the bag will maintain that flat base.
To fit a stock that is narrower or wider, use more or less sand to achieve a tighter - or looser - fit.
Specifications are as close as the materials will allow.