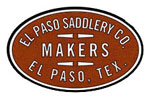 The El Paso Saddlery 1920 Tom Threeperson's Holster is a top quality belt holster for outside the waistband carry. The holster features an exposed trigger guard and a forward cant for a quick, unhindered drawstroke and the holster's lining helps protect your firearms finish. The Tom Threeperson's Holster is a straightforward, high quality leather holster that can be counted on for a lifetime of service.
Technical Information
Right or Left Handed Holster:
Material: Leather
Color: Russet Brown
Firearm Retention: Button Strap
Belt Fit: 2.25"
Muzzle Open or Closed: Closed
Firearm Fit: Colt SAA/Single Six 4.75"