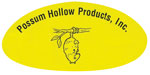 Put these stops on your cleaning rod and you can set the exact depth to which the rod travels through the bore. Perfect for use in conjunction with a bore guide. These rod stops will keep you from impacting the rifle's action and damaging the rifle's crown. They will also eliminate any harsh impacts on the action of the rifle by the metallic bases of some cleaning rods. For use with all cleaning rods!

Technical Information

Notes:

Place this stop on your cleaning rod, to set the distance that the rod travels through the bore.

Prevents impact on the action and also damaging the crown.

Fits cleaning rods for 22 caliber to 6.5mm.

Use with any brand rod.