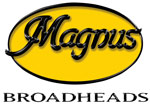 Made from 100% stainless steel, the Snuffer SS from Magnus will deliver devastating results on any game animal. Like all Magnus heads the Snuffer SS is spin tested to deliver superior accuracy even from today's super-fast bows, and the head can be re-sharpened for season after season performance. Superior flight and durability make the Snuffer SS a winner in the fixed-blade broadhead market.
Technical Information
Broadhead Type: fixed blade
Number of Blades: 3
Ferrule Material: steel
Replaceable Blades: no
Quantity: 3
Cutting Diameter: 1-1/16"