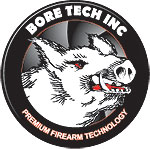 The
Bore Tech Bore Stix 1-Piece Cleaning Rod
features spring steel construction with a non-softening, non-peeling coating. This
Bore Tech Bore Stix 1-Piece Cleaning Rod
is durable enough to resist embedding from abrasive particles, while smooth enough to still protect the rifling from damage. The
Bore Tech Bore Stix 1-Piece Cleaning Rod
features a large cushioned handle provides effortless rotation for the brush or jag, thanks to the 22 stainless steel bearings. The base of handle has an indexing dot to check rifling twist rates.
Technical Information:
Bore Tech Bore Stix 1-Piece Cleaning Rod
Overall Rod Length:
Working Rod Length (In Description) + Handle Length
Handle Material:
Cushioned Aluminum on Stainless Steel Bearings
Handle Length:
N/A
Handle Mount to Rod:
Type
Rod Material:
Coated Spring Steel
Protective Coating on Rod:
Polymer
Tip Material:
Brass
Note:
Length in description is usable rod length (Length from front of handle to the end of the rod).
| | | | | | | | | | |
| --- | --- | --- | --- | --- | --- | --- | --- | --- | --- |
| | Gun Type | | Caliber/Gauge | | Thread Type | | Thread | | Male/Female |
| | Rifle/Pistol | | 17 to 20 | | Commercial | | 5 x 40 | | Female |
| | Rifle/Pistol | | 22 to 50 | | Commercial | | 8 x 32 | | Female |
| | Shotgun | | All | | Commercial | | 5/16 x 27 | | Female |