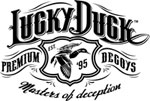 Features:

Intermittent timer

Flocked decoys

Multiple action motion

Runs on 4 AA batteries(not included)

The Lucky Duck Triple Play Flocked Motion Decoy is just what you need to bring those birds in the last few yards needed for a shot. The Triple Play simulates birds feeding on the ground and is set up with multiple action motions, including twisting and turning. The intermittent timer mixes up the movements, adding realism to your setup. The Triple Play comes with a fabric carry case, making for a convenient carry into the field.