How It All Got Started
May 25, 1998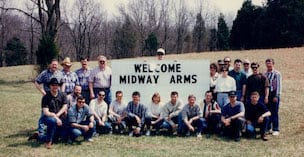 From time to time I am asked to relate how MidwayUSA got its start. Most people think it was a great stroke of genius, but it wasn't. Simply stated, the beginning of the Company was a little bit of dream and a lot of circumstance.
From my earliest days I was interested in guns, shooting and hunting. I have great memories of being with my dad Gilbert, while he hunted and hunting with him when I was old enough. We hunted mostly rabbits, squirrel, quail and raccoon. Dad had a Remington Model 12, 22 caliber pump that I restocked in high school woodworking class and a Belgium made, 12 gauge hammer-type double-barrel shotgun. Later on, he bought a Marlin 30/30 as the whitetail deer herd in Missouri flourished. My first gun was a Stevens 12 gauge single-shot, handed down from my older brother Marion, on my 13th Christmas.
We were a family of eight, living in rural northeast Missouri (near Ely) and didn't have much money. Reflecting back, Dad's subscription to Outdoor Life must have been a Christmas present. I read every issue as a teenager, reveling at the exploits of Jack O'Connor and the "This happened to me" page. Somewhere I got a Shooter's Bible, again probably for Christmas. What a marvel this was for a poor country teenager. I fell in love with Browning guns, though it would be years before I owned one.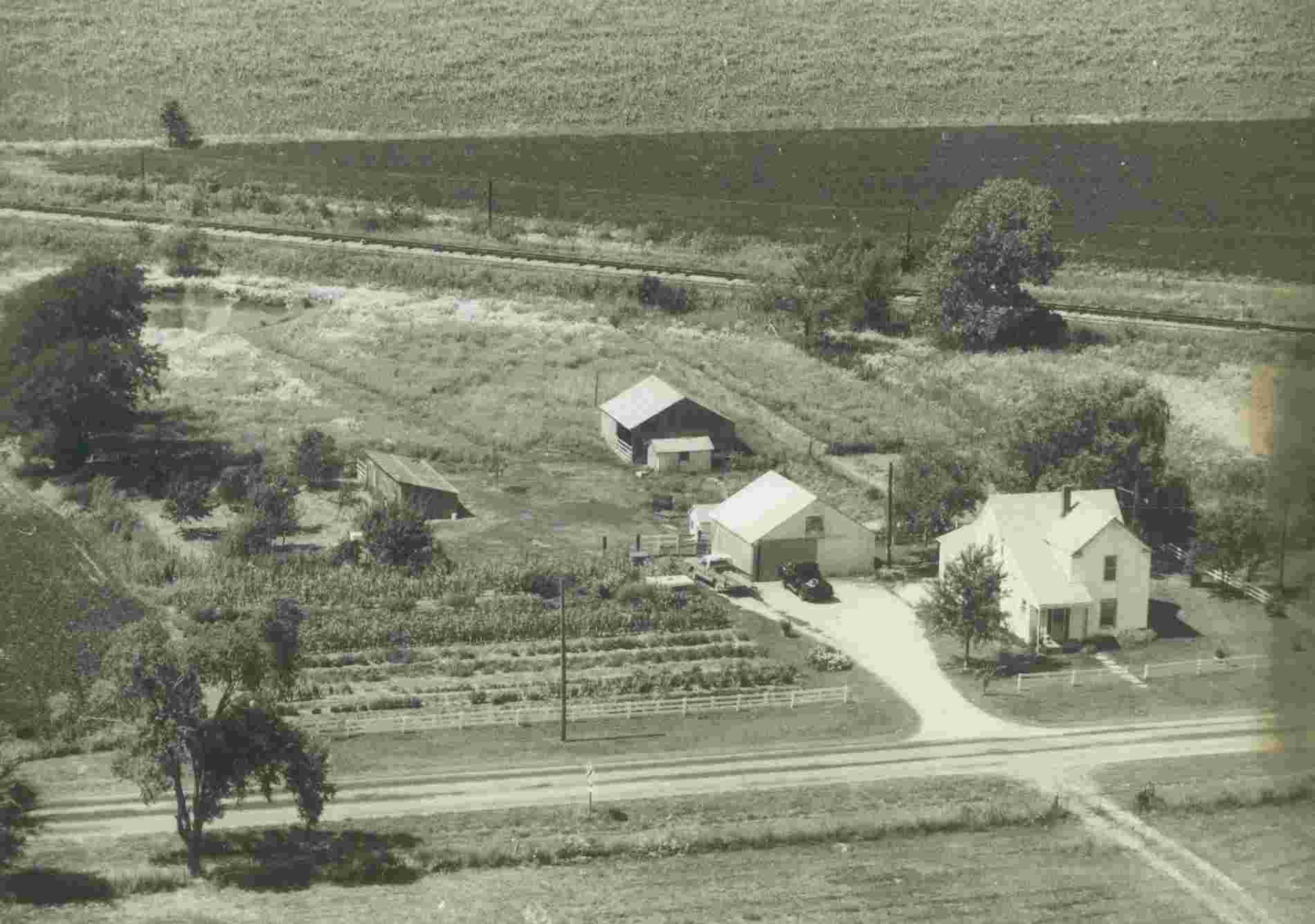 While attending the University of Missouri, I was introduced to skeet by a friend from back home. I loved breaking clay targets and it was a good opportunity to be around guns. I bought a Remington 870 12 gauge with an improved cylinder barrel, for $112.50. It was a wonderful gun and I shot my first 25 straight with it. Brenda and I were married in 1970. We bought her an 870 20 gauge, with a skeet barrel for $116.25. There was no real gun shop in Columbia, MO, but I got to know a local gunsmith named Bill Morgan and regularly visited the few stores that carried guns.
I joined the Air Force in 1971, after finishing my degree in business. My first duty assignment was Blytheville Air Force Base, Arkansas. Here I got to know John Baregi at the base firing range and helped set up the base Rod and Gun club where we built a modest trap range. I made a friend named Truman Wilson, who was also in the Air Force. Truman had a Federal Firearms License and was instrumental in my getting one about 1973. Brenda and I shot skeet regularly at the police department skeet range. When I turned 21, a Smith & Wesson Model 39 in 9mm was my first purchase. Standing at seven yards from a standard upper-torso target, I could barely keep the bullets in the cardboard. This was my first experience with a handgun.
"There was no real gun shop in Columbia, MO, but I got to a local gunsmith named Bill Morgan..."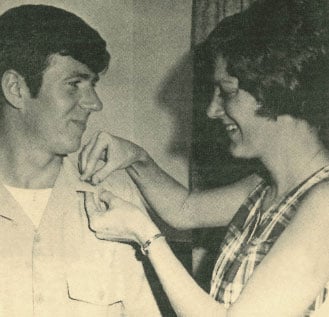 In 1972, I read a letter to the editor from the July Guns & Ammo. It mentioned a man named George Spence, who lived in Steele, Missouri about 12 miles from Blytheville. George was recommended as a source of 8mm Japanese pistol ammunition.
I desperately wanted to meet a man important enough to get his name in Guns & Ammo, so I called Mr. Spence. Brenda and I went to visit him a few days later and my life was again changed forever. As it turned out, George was a locksmith working on the Air Force Base, only a few hundred yards from the building I worked in. Later, when Brenda and I moved to Steele, George and I carpooled back and forth to the base on most days. George was the most knowledgeable person I had ever met in the areas of guns, bullet casting, reloading and wildcat cartridges. There is no telling how many hours George and I spent together, him working and my hanging around asking questions and learning. George was kind enough to loan me some of his fine Hensley and Gibbs four, six and ten cavity bullet moulds when I began to learn bullet casting. I also bought a 7mm Mauser rifle from George that he helped me make up some brass for. We shortened and reformed 30/06 military as new 7mm Mauser brass was very expensive and hard to find.
The most intriguing thing that George did was to make 8mm Japanese Nambu pistol cartridges and lots of them. He used military 38 Special brass and the process was about like this: 1) shorten the case about 1/4" using a modified copper tubing cutter; 2) turn the rim down to about .410 on an old Sears lathe; 3) size the neck down from about .375 to about .345; 4) cast the bullets, lube and size, 5) load the ammunition, package and ship. How fascinating! My cousin Charlie had a Type 14 Nambu pistol. I got a box of ammo for him from George and we shot it off his deck one Sunday afternoon. This wasn't good ammunition. It was too small in the body (some cases would split) and it didn't feed well through the magazines of the Type 14 and Type 94 Japanese pistols. It was, however, the only 8mm Japanese Nambu ammunition being produced for the thousands of service pistols the American GIs brought back from the Pacific Theater after World War II. The base diameter of 8mm Nambu is about .410 and it could be better made from 30 Remington brass, or 30/30 brass with the rim turned off, as the base diameter is about the same. This didn't matter to George. He had an inexpensive source of 38 Special brass, but didn't have any 30 Remington or 30/30 brass to spare.
Brenda and I left Blytheville in July of 1974, just after our son Russell was born. We spent three months at school in Texas, then on to the next duty assignment at Ellsworth Air Force Base in Rapid City, South Dakota. I was a Lieutenant now and had considerably more flexibility with my time. In Rapid City, I was introduced to prairie dog hunting (shooting) by Ron Burnside, a friend at work. What a blast! It was in Rapid City that all of the shooting, hunting and gun trading made me realize that I wanted to run a gun shop, when my three year active duty commissioning time was up and I got back to Missouri.
With the gun shop idea firmly in my mind, in the spring of 1976, I invited my younger brother Jerry to join the proposed new venture. He agreed and the next fifteen months were full of planning and anticipation. Brenda and I left Rapid City on May 13, 1977, with our two children Russell and Sara. Upon arriving in Columbia, we viewed the building lot for the first time. This was located on Old Highway 40, about a mile west off of Interstate 70, at the Midway exit. The site preparation had been completed, but no other building work had been done. Thirty-five days later, on June 18, 1977, we opened the gun shop for business under the trade name Ely Arms, Inc., named after the community of Ely, Missouri, population 26, before we left.
The Ely Arms, Inc., gun shop was a real gun shop, 1,632 square feet of new and used long guns, handguns and shooting and reloading supplies. Jerry and I had put our gun collections into inventory as part of our equity, so we started with 50 or 60 used guns. We had worked hard to find Smith & Wesson handguns and found three or four sympathetic wholesalers. It was a great beginning. Sales for the period June 18 through December 31, 1977 were $168,000. Most gun shops today are "hunter" based rather than "shooter" based; that is, they cater to hunters rather than shooters. Ely Arms, Inc., catered to shooters, but also did a good business with hunters in the fall of the year.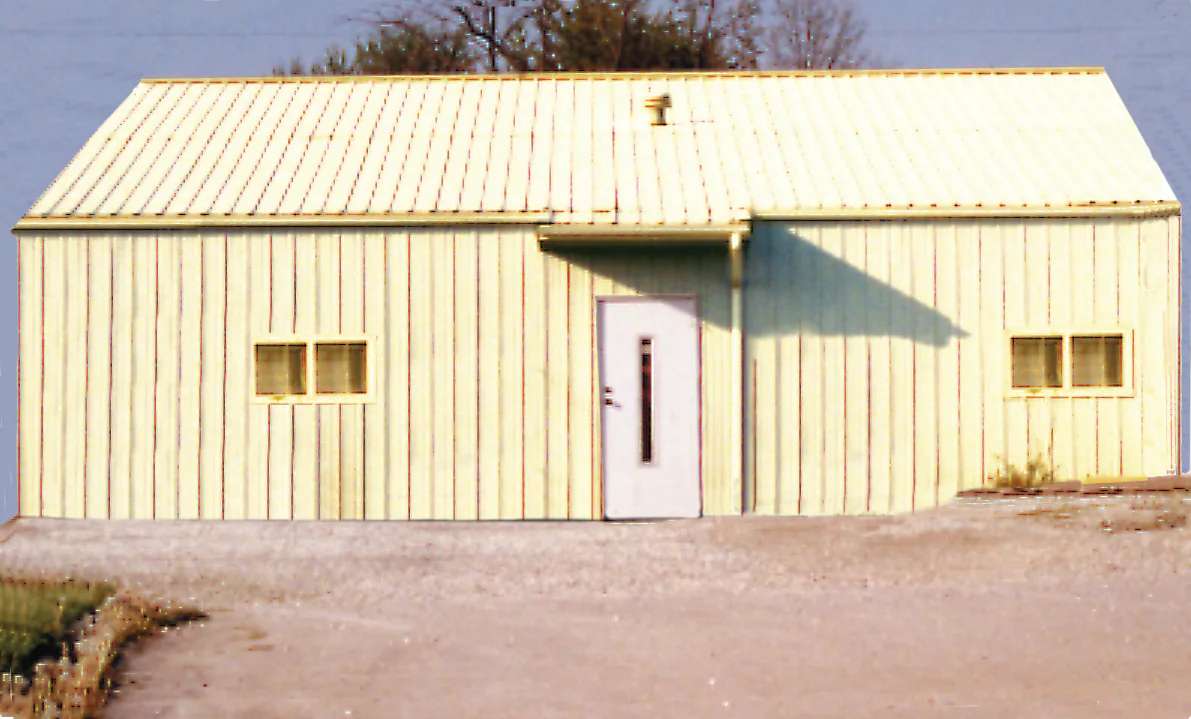 One of the used guns that Jerry put into our inventory for sale was a Remington Model 8 semi-automatic rifle in 25 Remington. As it turned out, this gun helped shape our future. At that time, Hodgdon Powder Company also had a distribution business for most brands of guns and supplies.
In the fall of 1977, we got a flyer from Hodgdon that listed some Remington ammunition in caliber 30 Remington. This was surplus police ammunition with a 170 grain full metal jacket bullet, in white boxes, for use in Remington Model 8 rifles in 30 Remington. The offered price of $2.00 per box of 20.
"In the fall of 1977, we got a flyer from Hodgdon that listed some Remington ammunition in caliber 30 Remington."
Always trying to find an angle, I remembered that 8mm Nambu could be made from this brass and we still had the Remington Model 8 in 25 Remington on the rack, asking about $250 for it, with no ammo and no takers. I convinced Jerry that we should buy some of this 30 Remington ammo and make some "good" 8mm Nambu ammunition and some 25 Remington ammunition that we could sell in a Shotgun News ad. We ordered in a couple of thousand rounds of this ammo, 8mm Nambu forming and loading dies and 25 Remington loading dies. The 25 Remington ammo was a no-brainer. We pulled the bullets, dumped the powder and worked up a load using the same powder that would cycle the Remington Model 8 using Hornady 117 grain round nose bullets.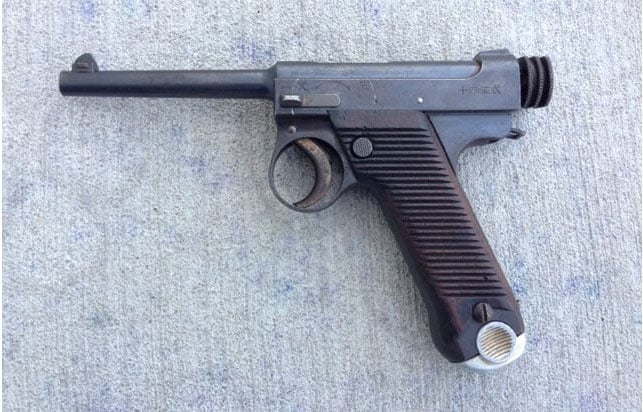 The 8mm Nambu was a real project. We needed to shorten the cases, but didn't have a lathe. My brother Marion was an engineer and he recommended a three-inch jewelers saw on an arbor in our drill press. Jerry modified a Lyman mould block to allow the lube groove of the mold to catch the extractor groove on the 30 Remington case. He bolted one-half of the mould to the indexing table on our drill press, and with the handles on, clamped the case in the mould. We cut off of the several thousand 8mm Nambu cases with this outfit. George loaned us his Hensley & Gibbs four-cavity moulds that made a beautiful 100 grain cast lead bullet. Cousin Charlie loaned us his Nambu pistol for load development. There was a company in Minnesota that advertised ammunition boxes and the project was rolling.
We got lots of calls for 8mm Nambu from our ad in Shotgun News but there was a limited supply of the 30 Remington ammo. We started looking for someone to make Nambu brass. We attended the NSGA show in Chicago during early 1978, looking for someone who would make 8mm Nambu cases for us. I inquired at the Federal booth and they referred me to B.E.L.L. (Brass Extrusion Labs, Ltd.) of Bensenville, IL. Both B.E.L.L. and Ely Arms were naive enough to enter into a contract for production of 500,000 8mm Nambu cases, with delivery to begin about six months later. Actual delivery of the 8mm Nambu brass began in February 1980, about 18 months past due.
"Actual delivery of the 8mm Nambu brass began in February 1980, about 18 months past due."
We did some advertising and a press release for 8mm Nambu in the summer of 1978, as we expected delivery by that time. A letter arrived from some attorneys in New York City, who represented the Eley division of Kynoch Industries. They felt that Ely in the ammunition business infringed on their Eley trademark and asked us to cease and desist. At that time we changed the name to Midway (named after the Midway community that our shop was located in). We immediately trademarked the Midway name so we wouldn't have to pay for the same ground twice.
While the Nambu project was going together, we were referred to Starline Brass (at that time in California) to do some part of the project. They said "No!", but suggested that "Midway" should buy and resell their newly made 357 Magnum brass. Starline had been formed by some of the previous owners of Sierra Bullets after the Leisure Group purchased Sierra in 1968. They had always wanted to make brass and now with time and money on their hands could give it a try. Bob Hayden, president of Starline, said they would put the Starline headstamp on the brass, which was fine with us, but if we would purchase 200,000 pieces they would put the Midway headstamp on at no extra charge. We gave them a purchase order for 200,000 pieces and 357 Magnum brass became the first product to bear the "Midway" name in 1979. We couldn't know it at the time, but the 357 Magnum brass, which was a spin-off of the Nambu project, would be the idea that really launched the Midway Company. Midway sold millions of rounds of Starline-produced Midway brand brass each year. It was Midway's offering of Starline-produced brass that coaxed Winchester into the bulk component market in 1984 and Remington to join in 1986. Midway, with the help of others, is given credit with starting the bulk component business, as we know it today.
We needed a box for the new production 8mm Nambu ammo and didn't have much of an idea where to start. Somewhere along the line brother Jerry plugged some sample ammo into a 38 Special Styrofoam tray. It was a little tight, but it did work. We were able to track down the manufacturer of Winchester 38 Special Styrofoam trays. They sold us the "rejects" from the Winchester production. These trays weren't dense enough (too light) to meet Winchester's requirements, but suited ours just fine. Hornady (who was making the 8mm Nambu bullets for us) gave us the name of the company that they got their bullet boxes from and we ordered the outside carton from them. We began shipping 8mm Nambu ammunition in April of 1980.
My brother Jerry longed to move back home and farm, so in March of 1980, he sold his interest in Midway to Brenda and me, moved back to northeast Missouri and bought a farm.
In the summer of 1980, remembering how much trouble we had in boxing the 8mm Nambu, we had the idea that maybe Midway should offer a line of empty ammunition boxes. We had a source of Styrofoam and a source of outside cartons. In October of 1980, Midway began offering boxes of 100 cartridge boxes in three sizes: CB-01 for 9mm & 38 wadcutter, CB-02 for 38 semi-wadcutter and CB-03 for 357 Magnum. This was the third product to bear the Midway name, which is still embossed on the end flap of our plain white outside boxes.
"In the summer of 1980, remembering how much trouble we had in boxing the 8mm Nambu, we had the idea that maybe Midway should offer a line of empty ammunition boxes."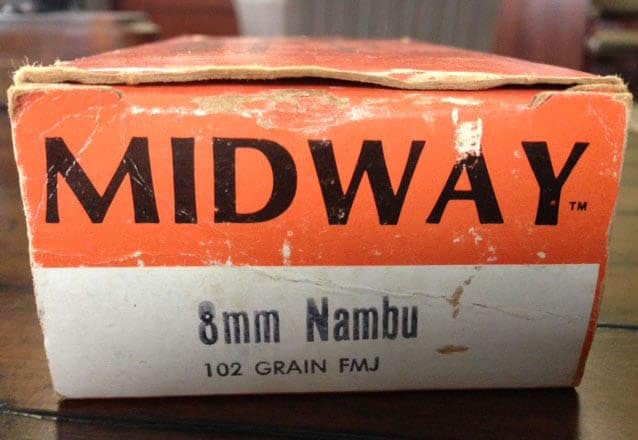 We were selling a lot of 357 Magnum and other new brass and we had a customer in Lancaster, California that ran up about $1,500 in bad checks. We sued for payment, but I had to make a court appearance in Lancaster. As long as I was going to be in Lancaster, I visited the Starline plant for the first time to see where all of the Midway brass was made. Bob Hayden suggested that I should visit Berry's Bullets, a few miles away in Fountain Grove. They were a large producer of cast/swaged bullets and Bob thought that perhaps Midway could be a distributor. While there, Gilbert showed me a plastic ammunition box for 357 Magnum. He had made up a one-cavity mould for this box and sold about 5,000 to a nearby gun shop. The gun shop had gone out of business and Gilbert asked if Midway wanted to buy some of the plastic ammo boxes. By this time we had a couple years of history on the cardboard ammo boxes, so it was an easy decision to buy some of these plastic boxes. Thus began Midway's plastic ammo box line that has contributed greatly to the success of the Company.
By 1987, we were doing about $5 million in business, selling mostly to dealers. The product lines were bulk components and cartridge boxes. The Volkmer-McClure law was enacted in October 1987, which removed the restriction of shipping brass and bullets to FFL holders only. Midway immediately began selling directly to consumers, in addition to selling to dealers.
Computerization has played a major role in the development of Midway. I had one computer class in college, back in 1968. It was a one credit hour class in Fortran. In 1982 I purchased the Company's first computer, an Apple III. In 1986 we bought the first IBM. In March of 1987 we began networking and have never looked back.
So there you have it. The Air Force took me to George Spence, who introduced me to 8mm Nambu. Brother Jerry put the Remington Model 8 in 25 Remington into our inventory. Hodgdon offered the 30 Remington police ammunition. The Shotgun News provided the customers. The spin-offs from the Nambu project were the bulk component product line, the cardboard ammo box product line and the plastic ammo box product line.
Thanks for Your Business,

Larry Potterfield,
Founder and Chairman of the Board