A bug out bag is the quintessential piece of gear for a prepper. And it serves the obvious purpose of being able to quickly evacuate an area during an emergency. Everyone should have one, but just having one is not quite enough. You need to test it out for capability, durability, weight, comfort, and efficiency. Over the years, I have gone through many different iterations of my original bug out bag due to personal experience, the advice of those with more expertise, and the introduction of new, innovative equipment options. One of the biggest takeaways I have learned is that having individual systems based on certain components is extremely beneficial.
Think of it like line gear which is generally used in a tactical application. Line 1 is on your person, either in your pockets or on your belt, and contains the essentials. Line 2 would be carried in a chest rig, plate carrier, or possibly a fanny pack. And finally, Line 3 would generally be your ruck or backpack with a sustainment load. You can apply this same principle to a bug out bag and create levels of efficiency while increasing your survivability if you need to ditch the backpack itself. Depending on the environment, a threat could arise where you need to use your rifle defensively, and carrying a 60lb pack is a liability. Or you might need to move quickly and strip down to the bare minimum essentials for mobility and discreteness. This is why I developed the 3 different systems for my bug out bag that can act independently of each other while providing additional tiers of capability even if the main bag has to be abandoned.
5 C's Survival Bag (Tier 1)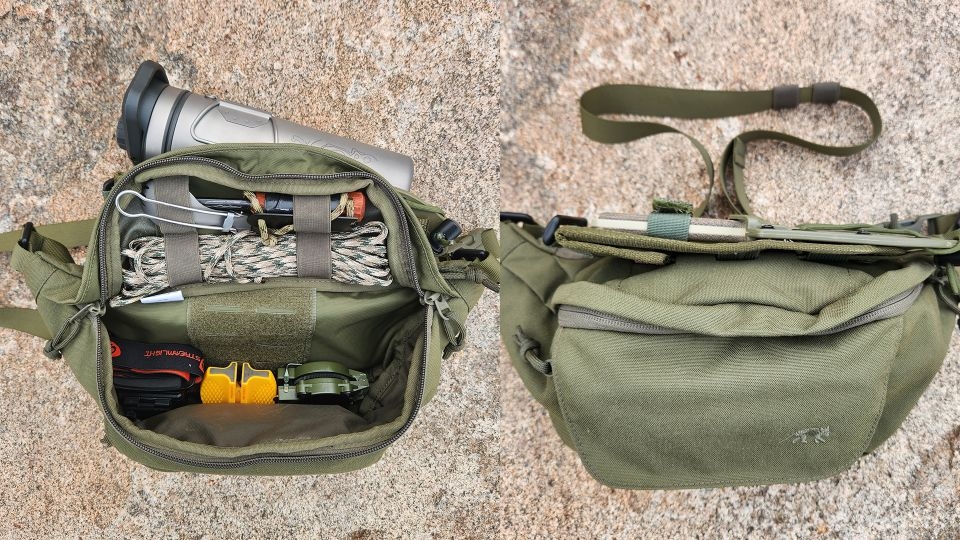 The concept of my 5 C's survival bag is to always have access to the bare minimum essentials of survival during a bug out scenario, even if I no longer have access to my backpack. In the past, I have kept all of my survival gear inside my bug out bag (along with everything else), and in the event that the bag and I were separated, my chances of survival would immediately diminish. The 5 C's are a bare minimum survival essentials list put together by Dave Canterbury of Self Reliance Outfitters (Pathfinder survival gear). This list includes; Cutting Tool, Combustion Device, Cover, Container and Cordage. Using this philosophy, I was able to create a relatively small and versatile survival bag with a couple of extra bonus items.
For starters, I used the Tasmanian Tiger Modular Hip Bag II as the bag itself. It's a fanny pack that can be converted into a sling bag which gives you options based on use. When wearing the ruck, I carry it like a sling off to my left side so that it is easily accessible and comfortable. I also have the option of wearing it like a traditional fanny pack depending on the other gear I am carrying or if I want to maintain a more discreet appearance. This hip bag from Tasmanian Tiger is made out of 700D Cordura and has just enough space and organization to work for this purpose without being too bulky. It also has attachment options that would allow it to be bag or belt-mounted if needed.
As for the contents of the bag, we'll start with the cutting tool. I have been told many times that keeping your knife in your backpack is a bad idea in the event that you get separated from it in an emergency situation. However, carrying a fixed-blade knife on your belt can be problematic when interacting with your backpack's hip belt. So, I think I found the solution that I've been searching for, thanks to this bag and the knife that I use for survival purposes.
The ESEE-4 fixed blade knife is a staple in the bushcraft and survival community. It's very robust thanks to the full tang design using 1095 carbon steel and its micarta handle provides excellent grip in any environment. They come with a Kydex sheath which is compatible with a MOLLE adapter that ESEE sells. The top of the Tasmanian Tiger Modular Hip Bag II has a single row of MOLLE webbing on the lid, which fits the ESEE-4 in its MOLLE-compatible sheath PERFECTLY. Now, I have a knife on the essential bag that's attached to my body at all times while not interfering with my backpack's hip belt. This was, at least for me, a game changer for off-body knife carry without the risk of being separated from it.
As for combustion, this is an important one when you live somewhere like I do in North Dakota. For this task, I have a few options. There is a ferrocerium rod with a striker that has the handle wrapped in duct tape because you always need more duct tape. I also have a small pack of mini bic lighters, which are tried and true fire starters and barely take up any space or weight. To ensure proper ignition when building a fire, I have also included a vacuum-sealed pack of petroleum-infused cotton balls.
Cover can be a difficult one to accomplish in such a small package. So I went minimalist while still having the ability to have something under me, on me, and over me. I stashed a 55-gallon contractor bag, mylar emergency blanket, and plastic poncho in the back pocket that interacts with your body. That way, it's soft against your side or hip and keeps the cover items in one place. I also have some baby wipes in there because if you gotta go, you gotta go. The 55-gallon contractor bag can be filled with foliage and debris to get you off of the ground, the mylar blanket can trap your body heat or reflect the heat of a fire efficiently, and the poncho can be worn or be converted into a makeshift shelter.
The container is one of my favorite parts of this kit. I am using the Grayl UltraPress Titanium Bottle Filter Purifier Cover Black, which is a container, water bottle, and water filter all in one. In its 16.9oz size, it fits right inside the main pocket of the hip bag and allows me to have access to water at any time. Not to mention I can quickly acquire more water at any source and instantly filter it to avoid viruses, bacteria, and other waterborne pathogens. The outer sleeve is titanium, which is great for boiling water or cooking, making this the perfect container for this bag. The filter has a lifespan of 40 gallons which isn't super long but enough to hopefully keep you alive until you get to your destination. Which is why I also carry a small bottle of water purification tablets. Included are some Propel drink mix and Folgers instant coffee packets for electrolytes and caffeine.
Cordage is one of the easiest items to mention here. Although bankline might be a better option based on space and size restrictions, I just have a ton of paracord. So, I have about 25 feet of 550 cord in this pack which will allow for accomplishing numerous survival-related tasks such as constructing a shelter or retrieving water from a steep drop-off.
Additional items I have in this pack are supplemental, and although not necessary for survival, they are extremely useful in any emergency. They include a Streamlight Clutch headlamp with extra batteries, 5ive Star Gear Marching Lensatic Compass, Smith's 2-Step Knife Sharpener, Rite in the Rain Top Spiral All-Weather Notebook, Rite in the Rain All-Weather Pen, 5ive Star Gear P-51 Can Opener Aluminum Silver, titanium folding spork, and a small topographic map of the local area of events. This pack really does have the basics covered and conveniently accessible. And it goes with me in every other kit or loadout now as well because of its modular nature and level of capability.
Concealed Carry-All Low-Key Chest Rig (Tier 2)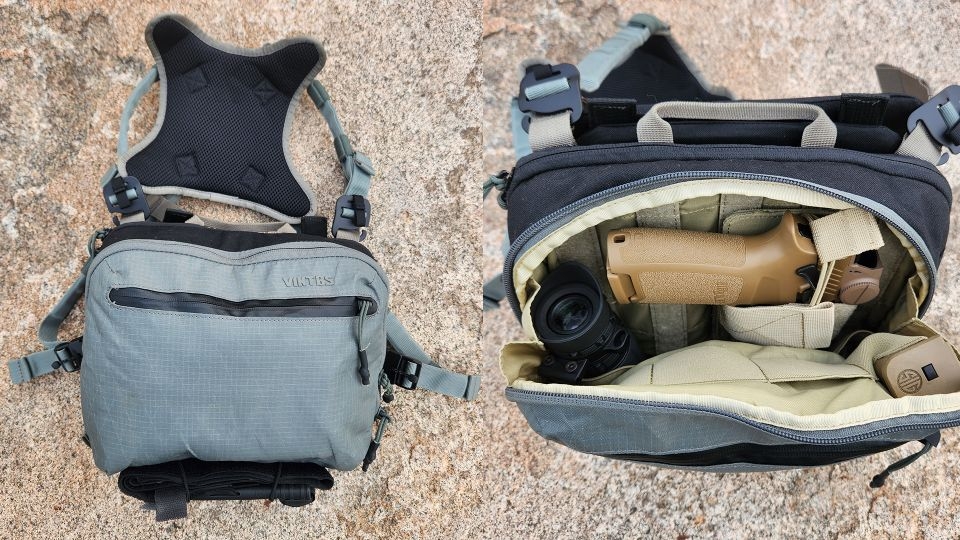 One issue I always ran into when rucking with my bug-out bag was figuring out what to do with my pistol. I want to have access to my handgun at all times, and I want it attached to my body for obvious reasons. Carrying it in your backpack basically relegates it to a backup weapon system or a camp gun for when you're no longer moving. But, once again, the backpack hip belt makes wearing a pistol on your belt nearly impossible. Although a drop leg holster or a chest holster can overcome some of those issues, sometimes you want to keep your pistol concealed. Whether or not that's because you're hiking in a public space where you don't want to cause anyone concern or due to the necessity of maintaining a gray man status during a crisis, the ability to conceal your pistol should be available to you. Especially during a bug out scenario. The same can also be said about carrying additional rifle magazines or anything else that might attract more attention than you want.
For this purpose, I chose the Viktos Low Key Chest Rig. I chose the Greyman colorway in order to maintain a level of discretion by avoiding the overly tactical look. This chest rig perfectly accomplished my goals while being high quality and once again, modular. It can be worn as a traditional chest rig or converted to a shoulder bag depending on the situation. It comes with a hook-and-loop holster system that allows you to securely carry a handgun concealed in the main compartment while providing elastic loops for extra magazines or accouterments. I carry a spare magazine and a Vortex Optics Solo Tactical Monocular 8x 36mm MRAD R/T Reticle in that compartment, along with whatever handgun suits the task at hand.
In the rear compartment closest to your body, it has 3 magazine retention loops and is set up to hold 3 standard capacity, 30-round AR-15 magazines. I store two magazines in this compartment and use the third elastic loop for my radio. That way, I have quick access to rifle magazines if things take a turn while also being able to quickly access my communications. The compartment is too short for the typical whip antenna found on most walkie-talkies so I substituted it for a shorty antenna while in the chest rig. Then I carry the original antenna and the earpiece attachments in that compartment so that I can extend my range or go hands-free depending on the environment. This allows for the typical chest rig style of carry for extra rifle magazines while keeping them concealed when not in use which can be beneficial.
The front pocket is slim and probably meant for maps or snacks, but I use it for a slimmed-down IFAK. In my case, I used the guts of a Refuge Medical SOB Kit, which just barely fits but allows me to have a blowout kit on me if I lose access to my much more comprehensive IFAK. You could likely fit something like the Blue Force Gear Micro Trauma Kit NOW! in there as well but I can't say for sure. By using the insert of my Refuge Medical SOB Kit, I can unzip the compartment and just pull the red handle to easily deploy my first aid supplies. The Viktos Low Key Chest Rig also has elastic loops at the very bottom, specifically meant for carrying a tourniquet which is exactly what I used it for.
Lastly, Premier Body Armor actually makes an armor panel to use in conjunction with this chest rig. It is level IIIA rated but if things are dicey in your area, it might be worth the extra bulk to have that protection. With this concealed carry-all low-key chest rig, I can access my pistol and carry a fighting load in an efficient way without alerting anyone. And it works perfectly in conjunction with my backpack, providing no interference with any other system.
Weapon System Sustainment Package (Tier 3)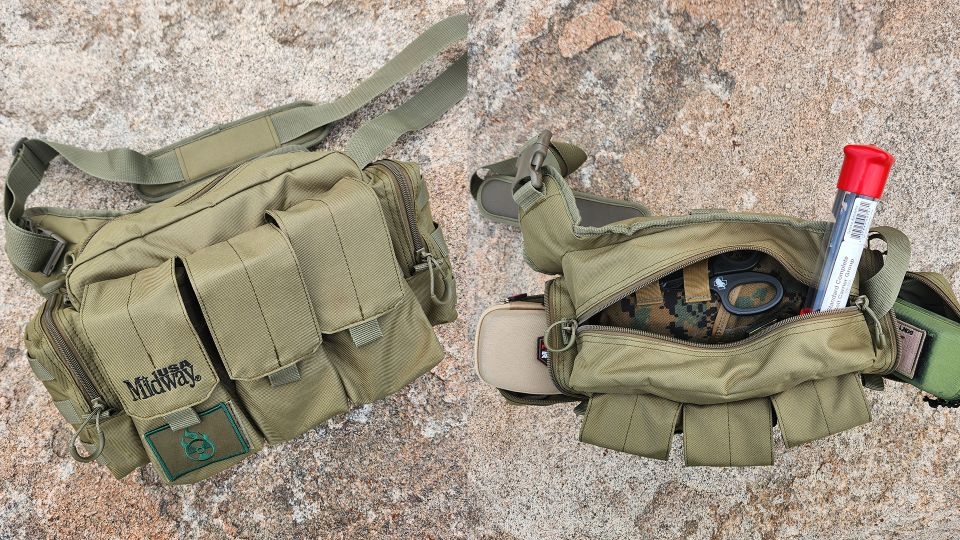 I've learned that having the majority of your gear contained inside of your bug-out bag makes for an easier and more secure bundle. And if you're bugging out with a rifle, it's generally for a couple of reasons. Either it's because of the danger level surrounding the emergency or because you might never go home again, and you want to maintain a level of personal security into the unknown future. For either scenario, you'll want to have a weapon sustainment package. But how do you efficiently store magazines, ammunition, cleaning kits, spare parts, and personal protective equipment inside of your backpack? What if you find yourself in a kinetic action environment and need the additional equipment without the bulk of your gigantic bug out bag?
Luckily, I was able to put together a reasonable solution that has worked well so far and brings a lot of versatility along with it. I started with the MidwayUSA AR-15 Bail Out Range Bag for the containment of the weapon system sustainment package. This bag is basically perfect for the task at hand. On its own, it would be carried by a shoulder strap in a sling bag configuration. It also has a belt loop on the back for additional stability if needed. But I actually carry this bag and everything in it at the very top of my backpack. It's heavy, and with the first two tiers previously discussed, there really isn't room for it to be worn while carrying everything else. Which is fine as the backpack carries the weight much better! And keeping it at the very top allows quick and easy access so that if ditching the ruck becomes a requirement, you can grab it and go with a full sustainment system for your rifle.
So what's in it? First off, it has 3 double magazine pouches on the front that can carry up to 6 standard-capacity magazines for your typical carbines (AR-15's, AK-47's, etc). You could also store multiple pistol magazines in one of these pouches if you so desired. On the sides are two rectangular storage pouches, which for me, were the perfect size. One houses a Real Avid Gun Boss AR-15 Cleaning Kit. I've included pistol cleaning accessories as well as an AR Stoner AR-15 Ultimate Repair Kit. The other pocket contains a glasses case which protects my Gatorz Eyewear Specter ballistic-rated eye protection and has Surefire EP7 Sonic Defender Ultra Ear Plugs in it as well. Eye protection is important, and you never know when you might want some hearing protection. Since the earplugs weigh almost nothing, I always keep a pair in my kit.
The main compartment is really large and lined with MOLLE webbing. Since I am grabbing this from the backpack in the event that I have to ditch it during a dangerous scenario, I've decided this is where I am storing my comprehensive IFAK. It's a BearFAK from Refuge Medical and has everything you'd want in a trauma kit. I have also added a boo-boo kit and some medicines as well in order to have a complete medical package. This is another reason why I have this package at the very top of my bag. If I need the full-on first aid kit, it's right there for quick retrieval. I also store a complete AR-15 bolt carrier group in the large compartment for expedient field repair purposes. Having the parts is a good idea, but nothing is faster than just throwing a fresh bolt carrier group into your AR-15 to get it back up and running if you're having action-related issues. And that's all that's in the weapon system sustainment package. The IFAK might not be weapon-related on your end, but it's an important part of the equation if you ever find yourself needing a weapon system sustainment package during an emergency.
3 Tier B.O.B System Solution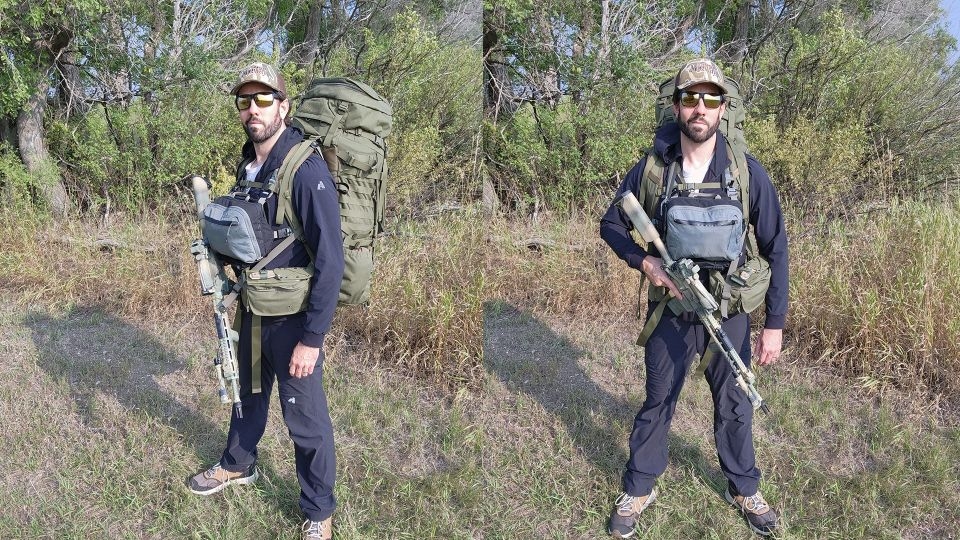 Building out this 3-tier system for my bug-out bag was the result of research, making mistakes, and a constant desire to maximize efficiency. After trying many different configurations, I found this particular one to accomplish the requirements I had set for myself while still being manageable. Nothing is 100% ideal as is the way things are when it comes to gear and equipment. I'd prefer to have all of my survival gear in my backpack rather than slung over my shoulder in a hip bag. Having a pistol on my belt would allow for a faster draw and make life easier once at a stable location. The main point here is that these systems were created from necessity rather than preference. Concepts like this do not have to be perfectly executed; however, they do need to be driven by purpose, priority, and logic.
--Magic Prepper