The Eberlestock Bandit is a lightweight day pack with a 15-liter capacity. It's rugged, it's comfortable, and it carries weight very easily. I love using it for day hikes and I also use it at night when your spatial awareness might be a little skewed and you need to have something a little more compact to avoid getting hooked on something you're walking by.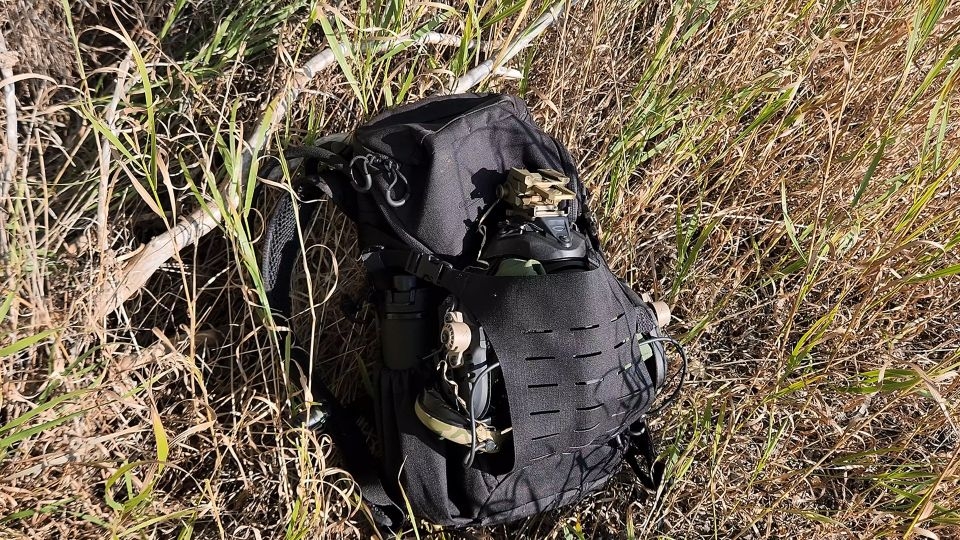 Starting with the outside of the bag, on the front is a laser cut Molle panel, which is great in case you want to do any expansion and add some pouches. And there are other Molle attachment points on the bag as well, but I don't add anything. I like to keep this backpack pretty slim and trim. But this panel's also great for holding things like helmets where you might be using them for night vision or something along those lines. And you can also stash a jacket or something like that under the Molle panel too, if you would like. On each side of the pack is a water bottle pouch.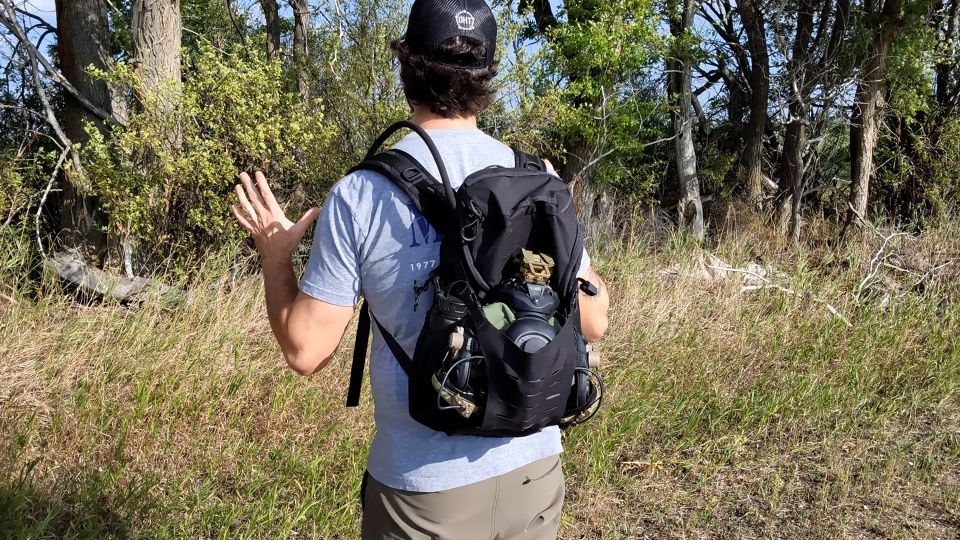 At the very top of the pack, there is what I call an admin pocket. It's small and it contains a couple of small pockets inside which help you organize. In this compartment I keep basic things like a poncho, a notepad, a bandana, or handkerchief. In one of the inner pockets, I keep writing utensils, like a Sharpie and a write in the rain pen. I also keep a plasma lighter flashlight combination in there as well, so that way I have a flashlight that can also start fires if need be. There's also a small mesh zippered pocket in the admin pocket, which I really like for batteries. I store extra Cr123s for night vision equipment. There is a little hook in the admin pocket for your keys as well.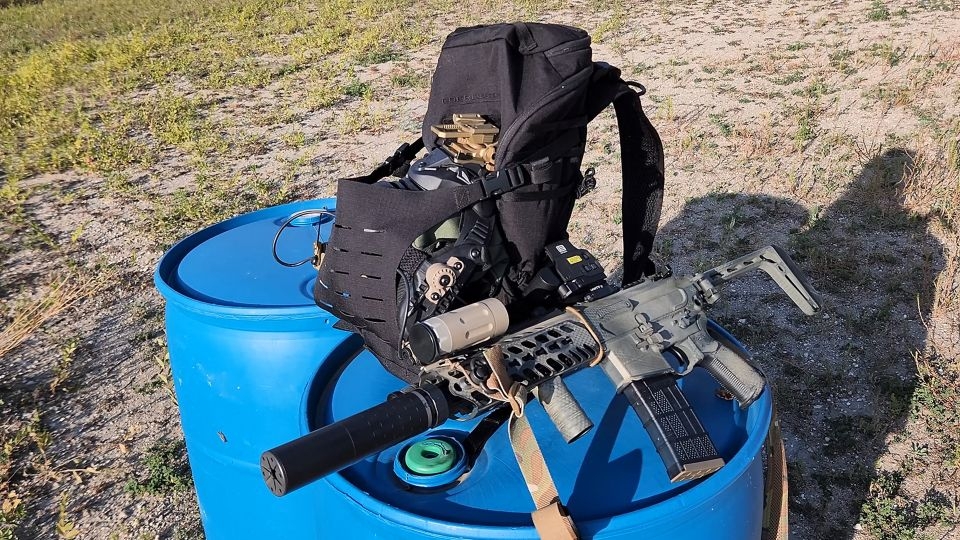 Moving on to the main compartment, which I really like because it's kind of like a clamshell-style design where you can open the entire compartment and lay it flat, giving you access to the entire space. At the very bottom, I keep a first aid kit. It's always good to have this on you, especially if you're going to be out shooting.
There's a tourniquet and everything else you would need inside. Inside of this main compartment are a couple of pockets on the sides. I don't use one of these large main pockets, because it competes with the water bottle on this side. On the other side are a few different-size pockets. The one at the bottom can carry a couple of extra magazines quite well, so I use it for a couple of 300 blackout magazines. The smaller pockets above it are perfect for things like additional pistol magazines or maybe a multi-tool. I also keep a couple of glow sticks there as well, just in case I need them in a dark environment. Also inside the main compartment is a water bladder compartment. It can fit up to a three-liter water bladder. It has a port right on the side for the water bladder hose to come out, which I then just hook to my strap.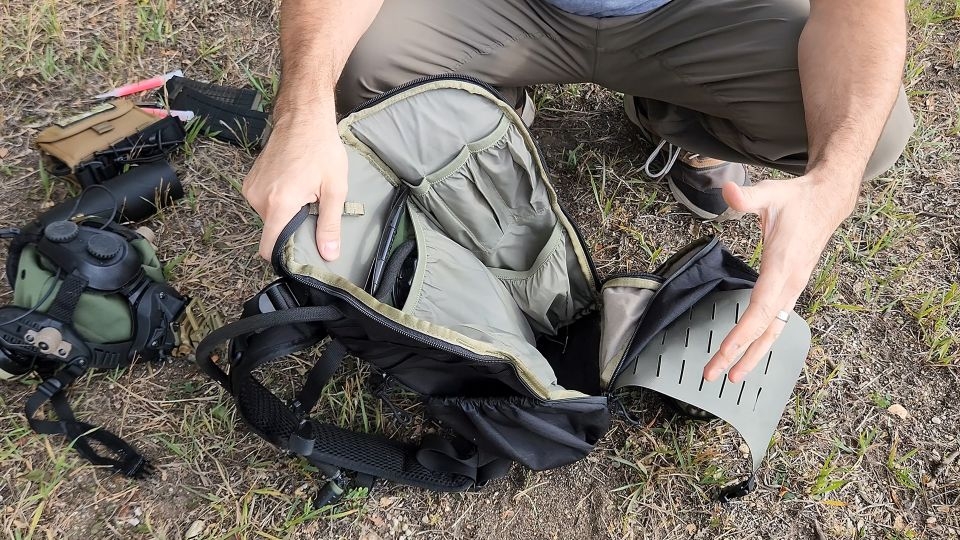 On the back of the pack it's very well-padded and the straps are also well-padded. So this is a very comfortable backpack. For how low-profile this bag is, it packs lots of features--so you can pack quite a bit if you like, but you can also keep it pretty slim and pretty lightweight by not overdoing it. The Eberlestock Bandit has been an excellent backpack for me. If you're looking for something that's lightweight, comfortable, and will help you out during a day hike, a day out in the field during a hunt, or especially if you're using it for night vision, I think the Eberlestock Bandit is an excellent choice.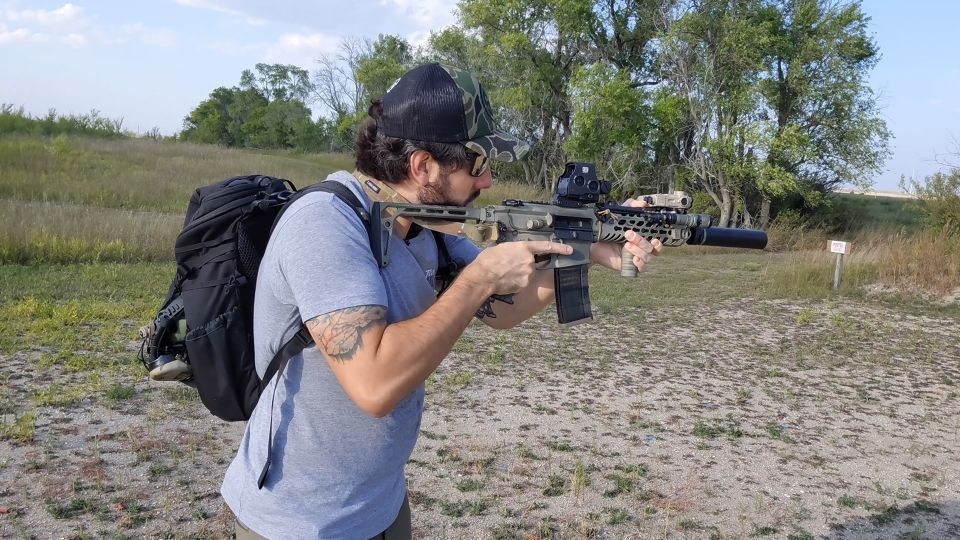 --Magic Prepper