Pompano fishing is very popular throughout Florida and for good reason. Despite their size, they are a surprisingly hard-fighting fish. Their white flaky flesh has a mild, sweet flavor and is considered a delicacy to anyone who likes fish. They can be prepared in a variety of ways and have even been dubbed as the world's most edible fish!
Pompano are usually smaller than 3 pounds, but despite their small size, they are a hard fighting fish thanks to being a part of the jack family. They are silver-bodied with a touch of yellow on their faces, stomachs, and fins. They look similar to a permit, but Florida pompano are much smaller and have distinct differences in their dorsal and anal fins. The Florida Pompano state record is just over 8 pounds, while a 20-pound permit is a fairly regular sight.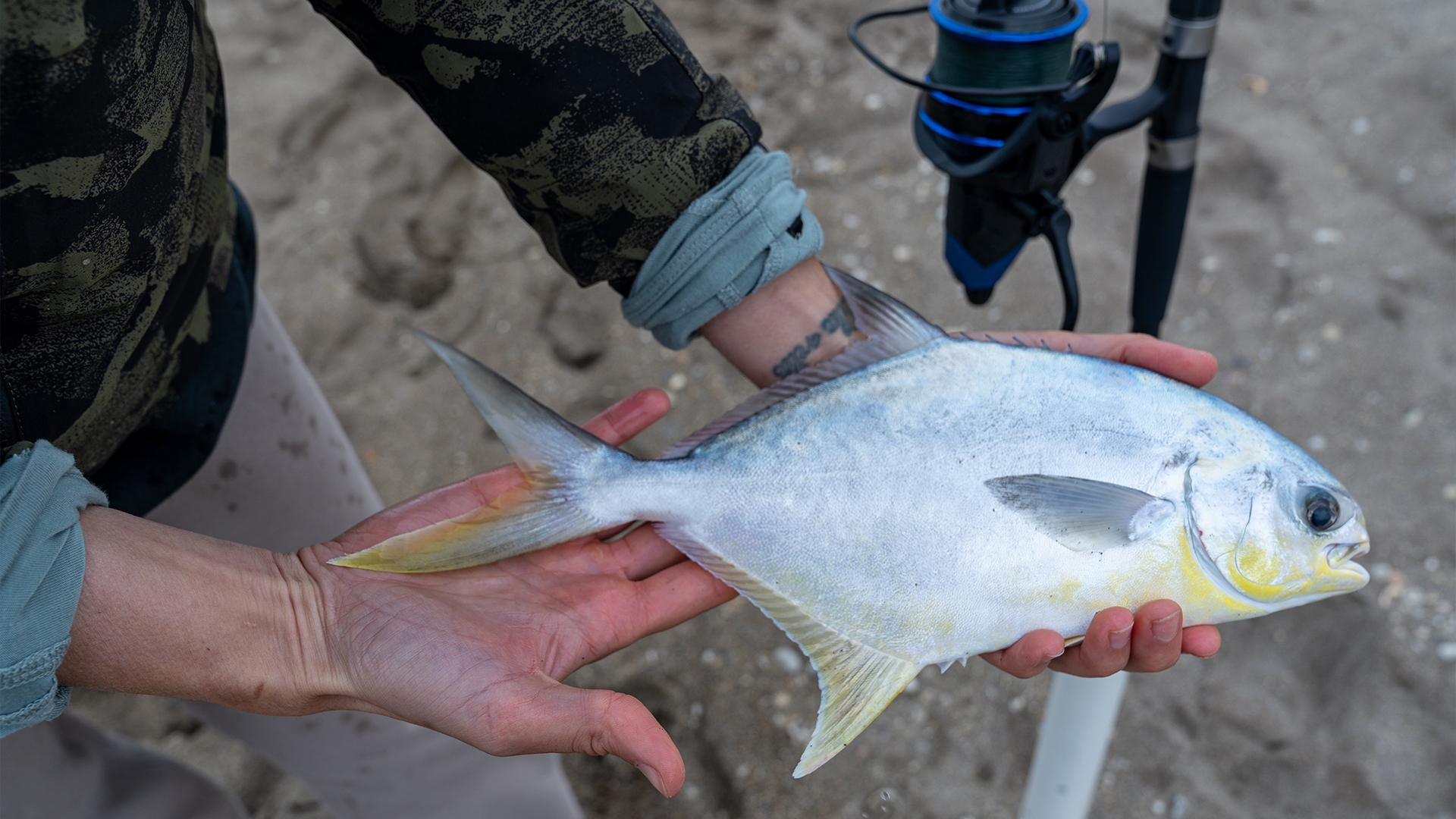 To get started pompano fishing on the beach, you need the right rod and reel setup. Go for a medium action surf rod that's 10-15 feet in length. This type of setup will help your casting distance, which is critical when fishing the surf. I use the Okuma Rockaway Surf Spinning Rod and matching Okuma rockaway Surf Baitfeeder Spinning Reel.
Pompano Rigs are my go-to rigs for fishing the beach with long surf rods. They consist of two or three sets of hooks, floats, beads and a sinker on the bottom. I like using natural baits like sand fleas and artificial baits such as FishBites and FishGum. I'll place a sand flea or a 1 inch strip of FishBites on each hook and attach a pyramid weight or sputnik weight to the bottom of the rig in order to keep the bait from drifting. The size of the weight completely depends on the size of the waves, current and wind. The rougher the conditions, the larger your weight will be.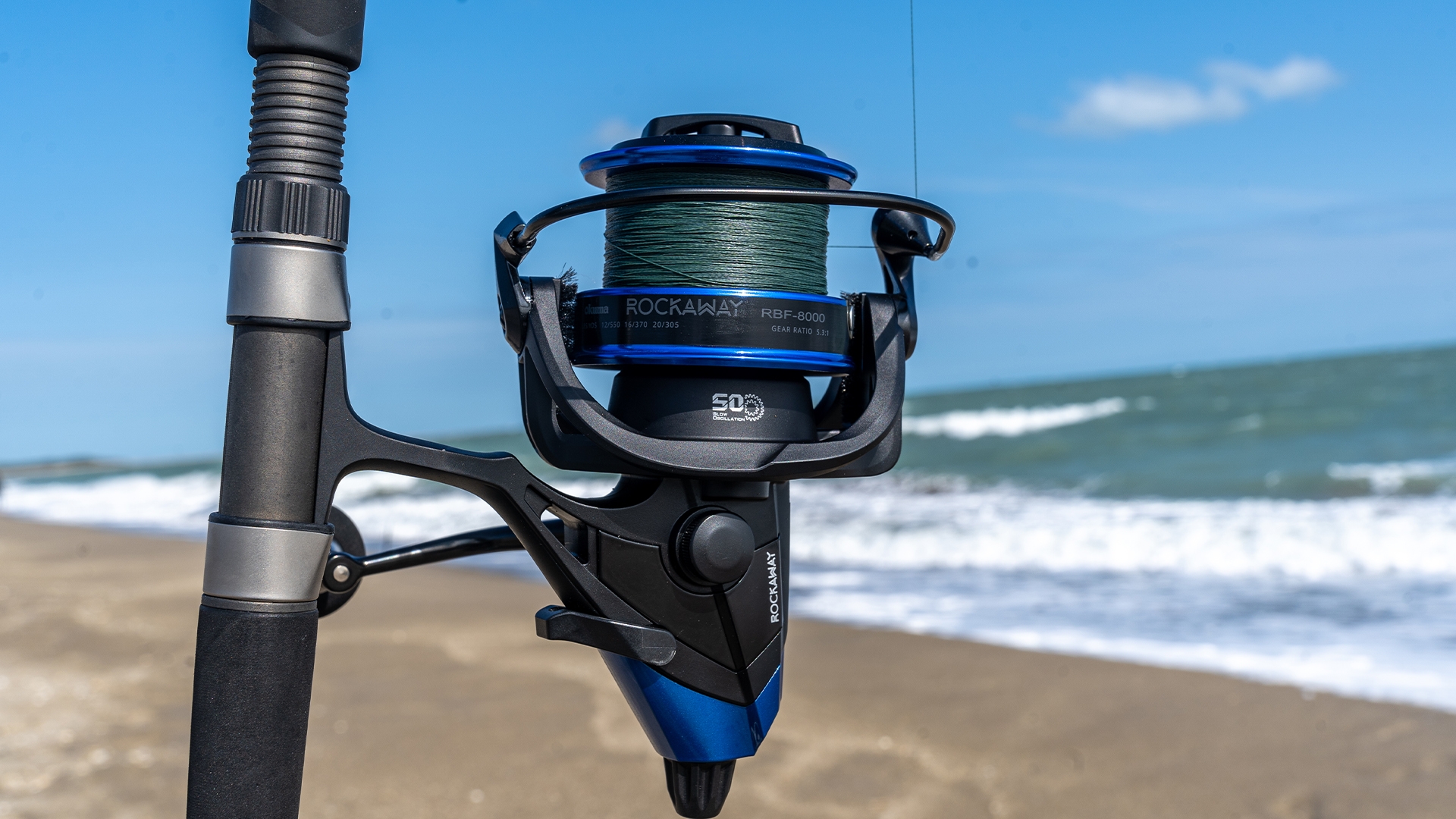 Pompano can be found around sandbars where the waves break and close to shore in the trough. I find using multiple rods at a time is the best way to increase your odds of hooking into one. And typically, where you find one pompano, you'll find many. It's common for a school to swim by and suddenly all your rods are bending at once!
It is also important to be aware of their migration pattern as it varies throughout the year. 65–68-degree water temperature seems to be the sweet spot, but you can catch them in a temperature range from 60 to the mid 70's as they cruise the shorelines of the Atlantic Ocean.
Regulations vary state to state, so it's important to check the local size limits and keep limits before heading out. As of 2023 in Florida, there is a 6 fish bag limit per person, per day and the size of fish must be greater than 11 inches fork length. Only one fish may be larger than 20 inches.
Like all fish, I recommend eating pompano the same day you catch them for the best eating experience. But, life happens, so if you can't eat them the same day you catch them, I recommend vacuum sealing them and keeping them in the refrigerator on ice. I put a generous amount of ice in a large bowl and place the vacuum sealed fish on top of the ice. As the ice melts, you will want to drain the water and replace with fresh ice. With this method you can stretch the freshness for an extra day or two before eating.
The flavor options for seasoning pompano are truly endless. Because the fish is so mild, it goes well with a lot of flavors; anything from garlic butter to sweet potato crusted. My favorite preparation is a coconut curry breading, shallow fried in a neutral oil.
The Florida Pompano is a prized fish, and you should consider yourself lucky if you have the chance to hook up with one. Good luck out there!
--Outdoors Allie