A super simple and easy dish to make with any of your upland game birds. It's also very versatile. While this dish was made with Chukar, you could easily substitute pheasant, quail, or grouse. You can also pick the pasta of your choice; we used penne. It works great with angel hair, bowtie, or any other common dried pasta! The sauce could also be switched out for a red sauce. You could just omit the tomatoes at that point if you wanted. Give it a shot (pun) and make this dish your own!
Total prep time: 10 minutes
Total cook time: 10-15 mins
Serves: depends on how many breasts you are cooking.
Ingredients:
6-8 Chukar breasts
Hi Mountain Game Bird & Poultry Brine
1/2 box of pasta of your choice
1 16oz jar of alfredo sauce
1 diced tomato
2 tbsp of chopped pickled ramp bulbs (optional)
Fresh parsley for garnish
Italian seasoning
Shredded Mozzarella cheese
2 tbsp of Butter
2 cloves of minced garlic
Kosher salt
Black pepper
2-3 tbsp Olive oil
Spinach (optional)
Start out by prepping your chukar breasts. Make sure to remove any and all blood spots, as well as the fine "skin like" membrane between the breast and the tenderloin. No one wants to eat something that isn't very chewable. Once your chukar has been looked over, make sure to brine your breasts. I highly recommend purchasing Hi Mountain's Game Bird and Poultry Brine. After a day in the brine, remove and allow them to dry for a couple hours on a drying rack in the fridge before you cook them. You could do this overnight as well.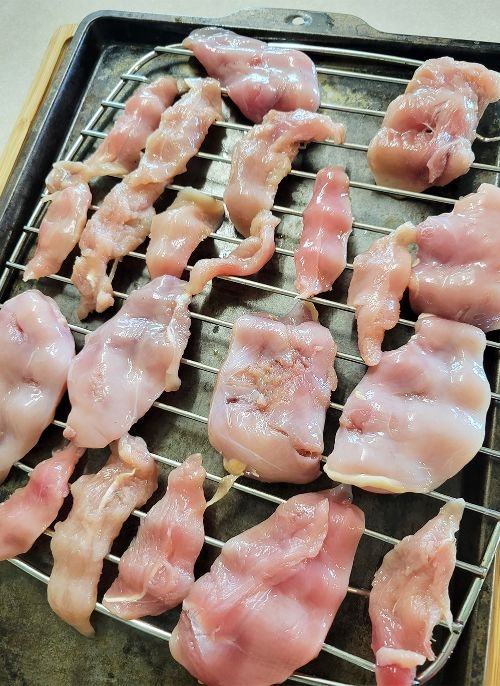 Get your chukar out of the fridge and rest on the counter before pan searing. You can season it lightly with some Italian seasoning, but you want to watch adding more salt, because the brine has plenty. While your chukar is resting, get your pot of boiling water going, and make sure to season your pasta water with a little salt.
Preheat your skillet to medium/high heat. Add in just a little olive oil and then add in your breasts, making sure not to overcrowd the skillet. Sear for about 2 mins and then flip over and repeat. You're shooting for around 165° internal. The brining process should help if you happen to overcook them. As you remove the breasts, set them aside and add in the remaining breasts to finish searing. As soon as the skillet is empty, add in the butter and minced garlic. Lower the heat to Med/Low and stir constantly so that the garlic does not burn. If you like spinach, at this point you could add some and sauté it with the butter and garlic. Before the garlic starts to brown, add in your alfredo sauce and stir to incorporate the butter and garlic.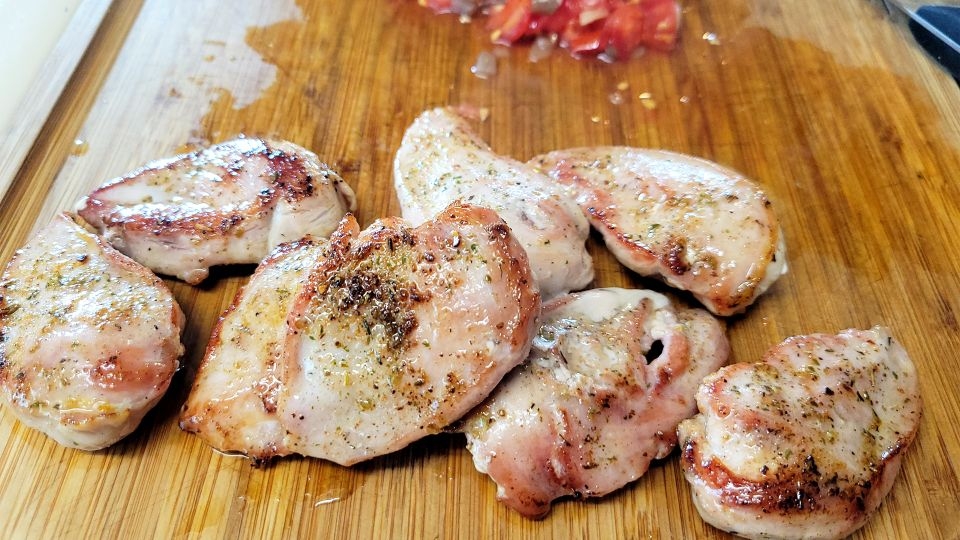 After your breast meat has rested, slice thin or chunk it up and add it to your pasta sauce. Your pasta should now be done, and you can drain it from the water. Add only enough pasta as you need for the sauce in the skillet. If you have extra pasta, you can place it in the fridge and eat it later in the week with butter and salt. Stir to incorporate the pasta, and then top with mozzarella cheese, tomatoes and pickled ramp bulbs for acidity. If you don't care for tomatoes, you could add in a little squeeze of lemon juice to help cut the richness of the sauce and pasta. This is a super simple, family-friendly dish. Feel free to add your own spin to it and enjoy!
--Wild Game Cook