Here is one of my favorite deer jerky recipes. I'll show you how to take common household ingredients and turn them into great-tasting jerky in just a few days. With these quick tips, you can amplify your jerky-making skills and get a flavorful end result.
What you'll need
TOOLS
Mixing bowl and/or container with a cover
Whisk
Meat Slicer (I use a LEM Electric Meat Slicer)
Grill (I use a Camp Chef Woodwind Pro Pellet Smoker)
MEAT
For the meat, I like to use a bottom round roast from a whitetail doe. I like to work with the venison while it's still semi-frozen, which help make for nice, easy cuts on the LEM Slicer.
MARINADE
My jerky marinade contains a lot of ingredients pretty common in most households - and this marinade is great for all wild game jerky. Waterfowl especially!
1 cup of teriyaki sauce
1/4 cup of light brown sugar
1/4 teaspoon of pink curing salt
2 tablespoons of low-sodium soy sauce
1 tablespoon of honey
1/2 tablespoon of garlic powder
1/2 tablespoon of onion powder
1/2 tablespoon of ginger powder
1/2 tablespoon of Worcestershire
1/2 tablespoon of lime juice
Sprinkle red chili flakes, to taste
1 tablespoon of steak seasoning (I use Reload Magnum)
Make your marinade
Put all those marinade ingredients into a bowl and whisk it up so the honey, the brown sugar, and the pink curing salt all dissolve into the mixture. Give a taste for your preferred balance between the sweetness of the honey and brown sugar versus the saltiness of the rest. The chili flakes add some heat to the mix, so adjust the amount according to your heat tolerance.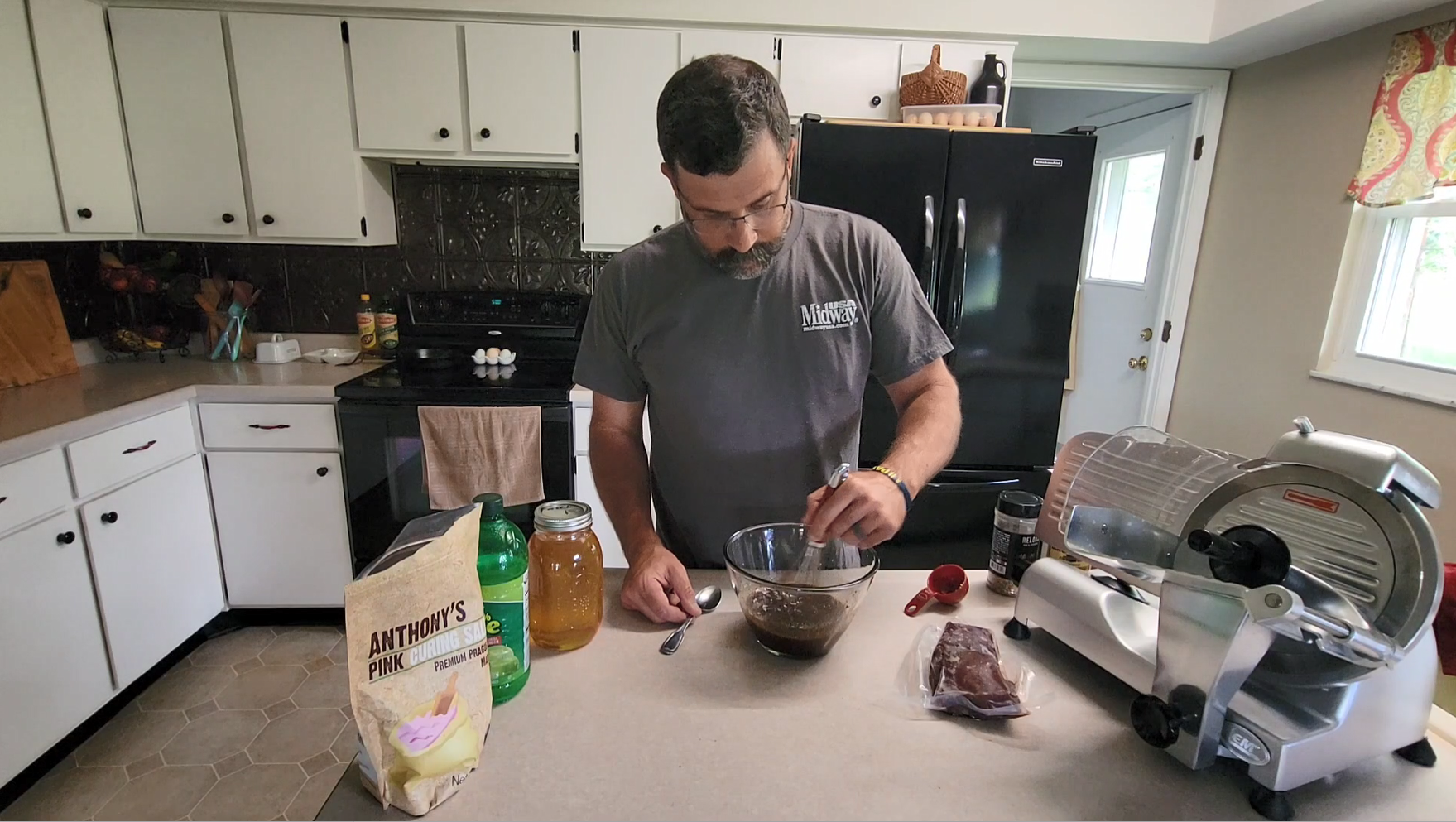 Slice the meat:
I use an LEM Slicer to make the meat slices, so I can get consistent thickness with my cuts. The more consistency you have with your thickness, the more likely your jerky cuts will all be done at the same time. Also, the less babysitting you have to do while they cook. I set my LEM Slicer to level 3 thickness, which put cuts close to a quarter inch thick.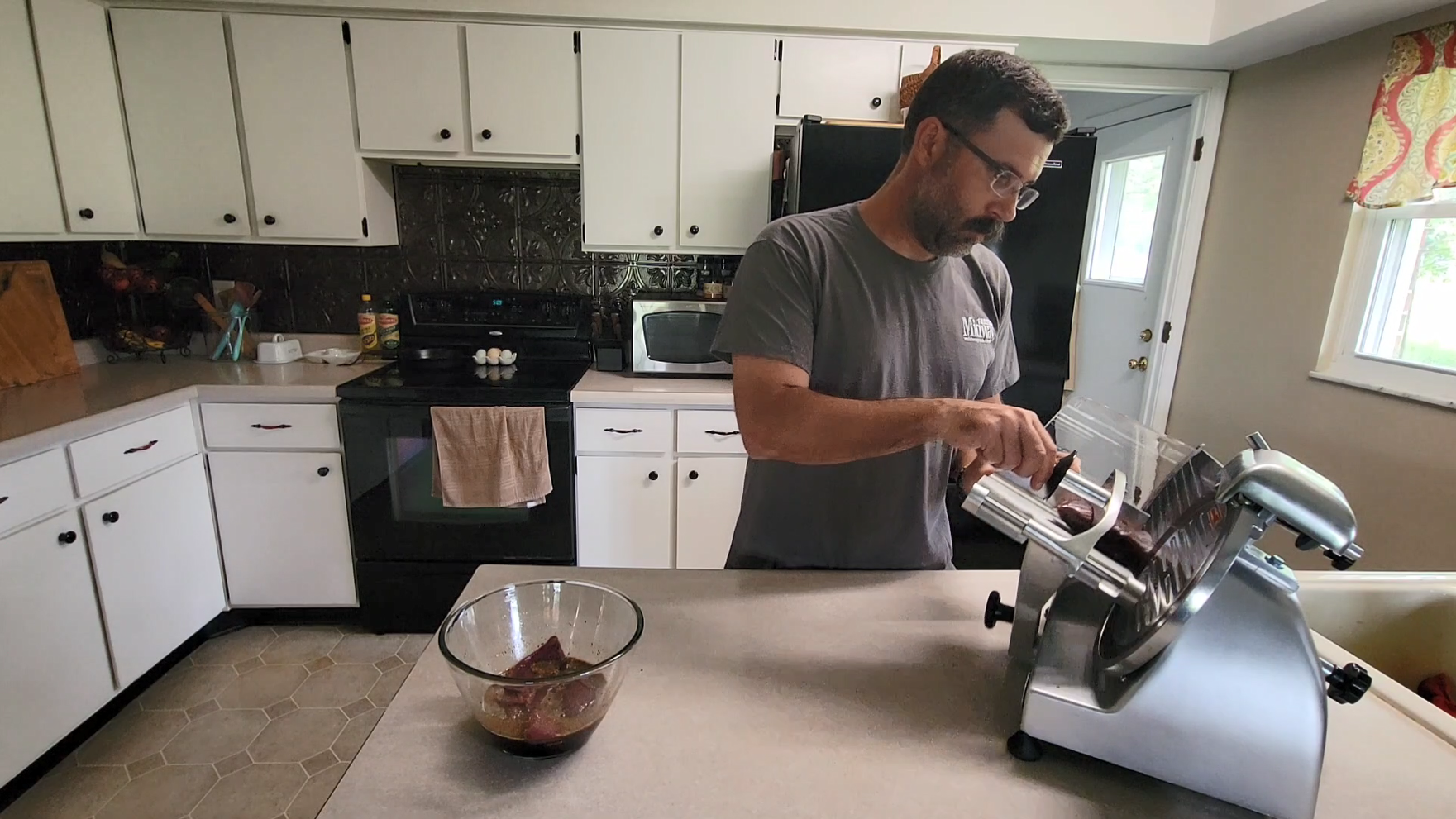 Marinade the Meat
Place your meat slices into the marinade, making sure that none of them are connected. Cover and let them soak in the refrigerator for anywhere between 24 to 36 hours. During that time, occasionally (every 12 hours) massage, flip and stir around the slices to make sure that each jerky receives ideal coverage.
After the meat has sufficiently marinated, drain it right before you're ready to put it on the smoker.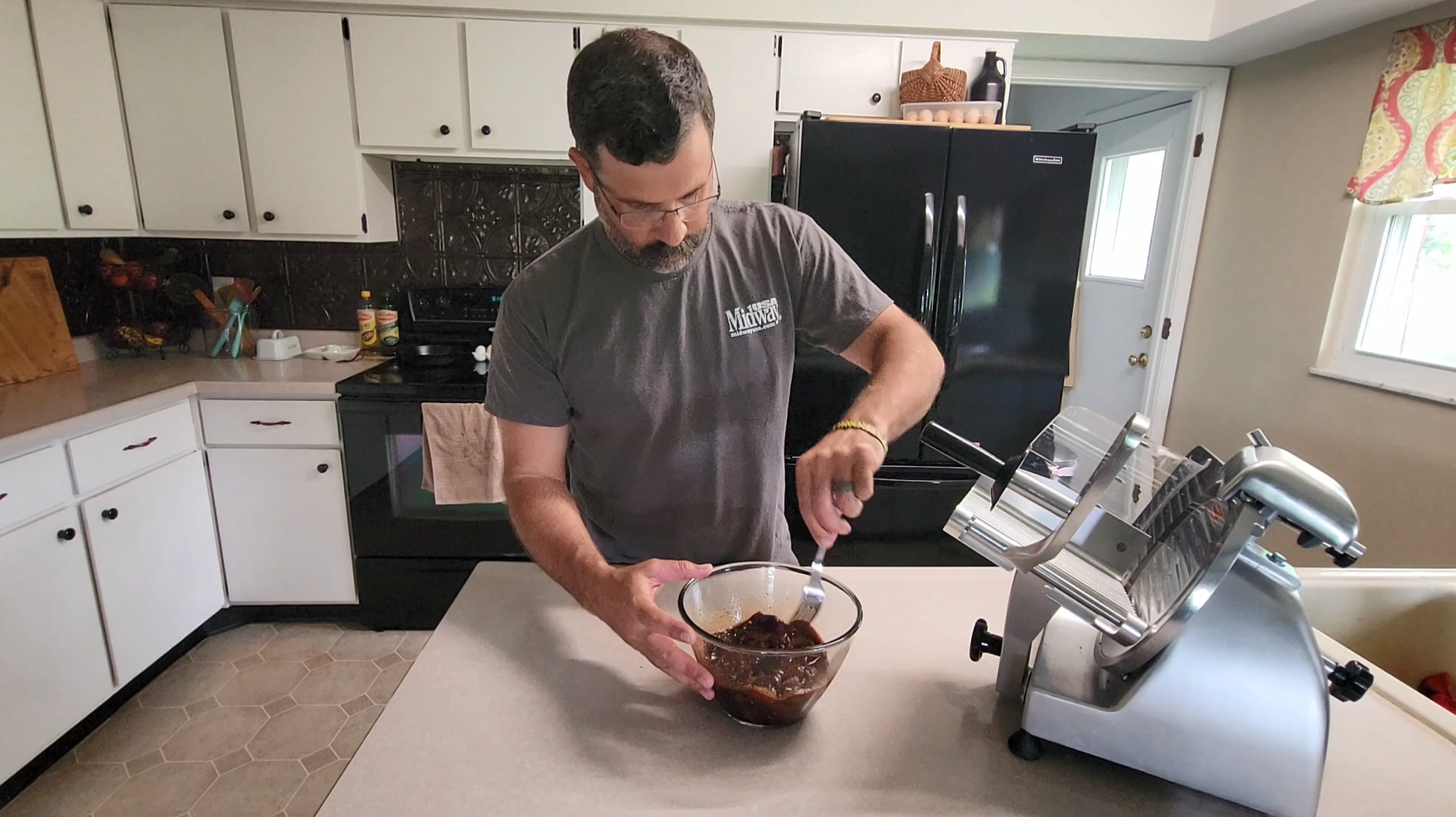 Cook the Meat
I use a jerky rack on the top shelf of my pellet smoker grill. I lay the pieces of meat out, careful to leave space between them. Then, I like to dust them with a little bit more of Reload Magnum, just to give them a little bit more seasoning on the top.
Next, I crank the grill up to 160° and start the smoke setting of 10. I'll let it cook for 45 minutes to an hour.
After that first hour pass, I change the smoke setting from 10 down to 1 then wait another 90 minutes.
Once the jerky has sat for 90 minutes on a smoke setting of 1, I'll check and decide whether to leave it on for another 20-30 minutes.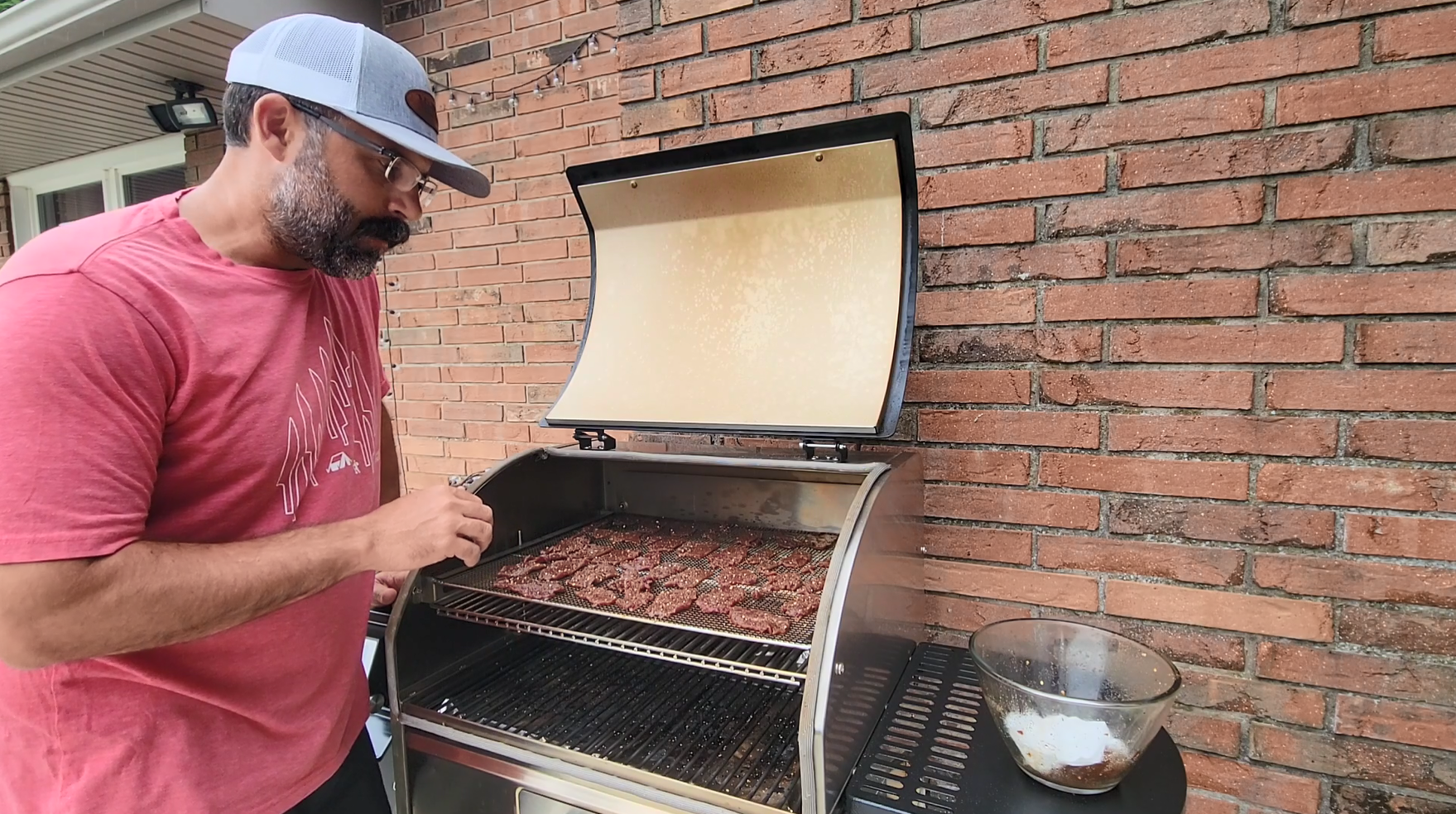 When is it ready? Partly, it depends on the thickness of your jerky. It'll also depend on what you're cooking it on, as well as the moisture content of the meat on the smoker or in the dehydrator. All of this comes down to personal preference. How dry do you want the jerky? Do you want it a little bit chewier? The beauty of using a slicer, like the LEM Slicer, is at least your cuts are all going to be the same thickness. So, however long you choose to leave the jerky on, the pieces should turn out about the same time.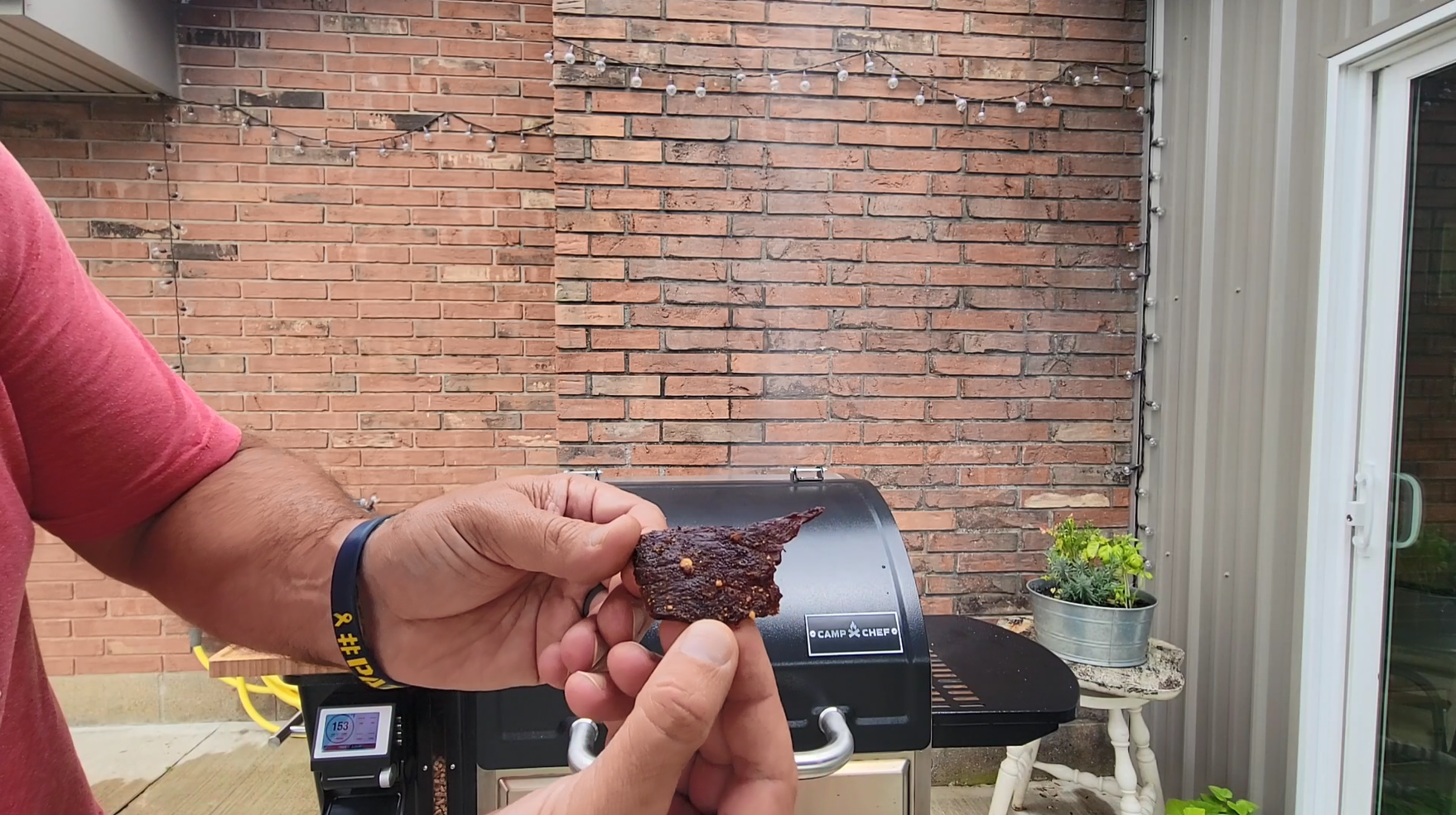 I like for my jerky to have a little play to them, a little wiggle. As the pieces dry and cool off, they're going to stiffen more, so keep that in mind.
I hope you get a chance to try this deer jerky recipe and I hope you enjoy the result!
--Wild Game Cook