Everyone has their own take on this, especially depending on where you live. To me, a Philly cheesesteak sandwich is simply a nice hoagie roll with thinly sliced red meat, in this case venison, accompanied by your choice of cheese. I prefer "liquid cheese," but melted provolone works great too. To me, onions are a must, and mushrooms are a great addition. I've never been a 'peppers-on-a-cheesesteak' kind of guy, but hey, it's whatever you want. In order to get the texture of the meat more traditional, a slicer is recommended to get it super thin, however, you can go a little thicker; it's completely up to you. We like to use our LEM Products 8.5 Big Bite Slicer, which is easy to use and helps make all the meat cook evenly.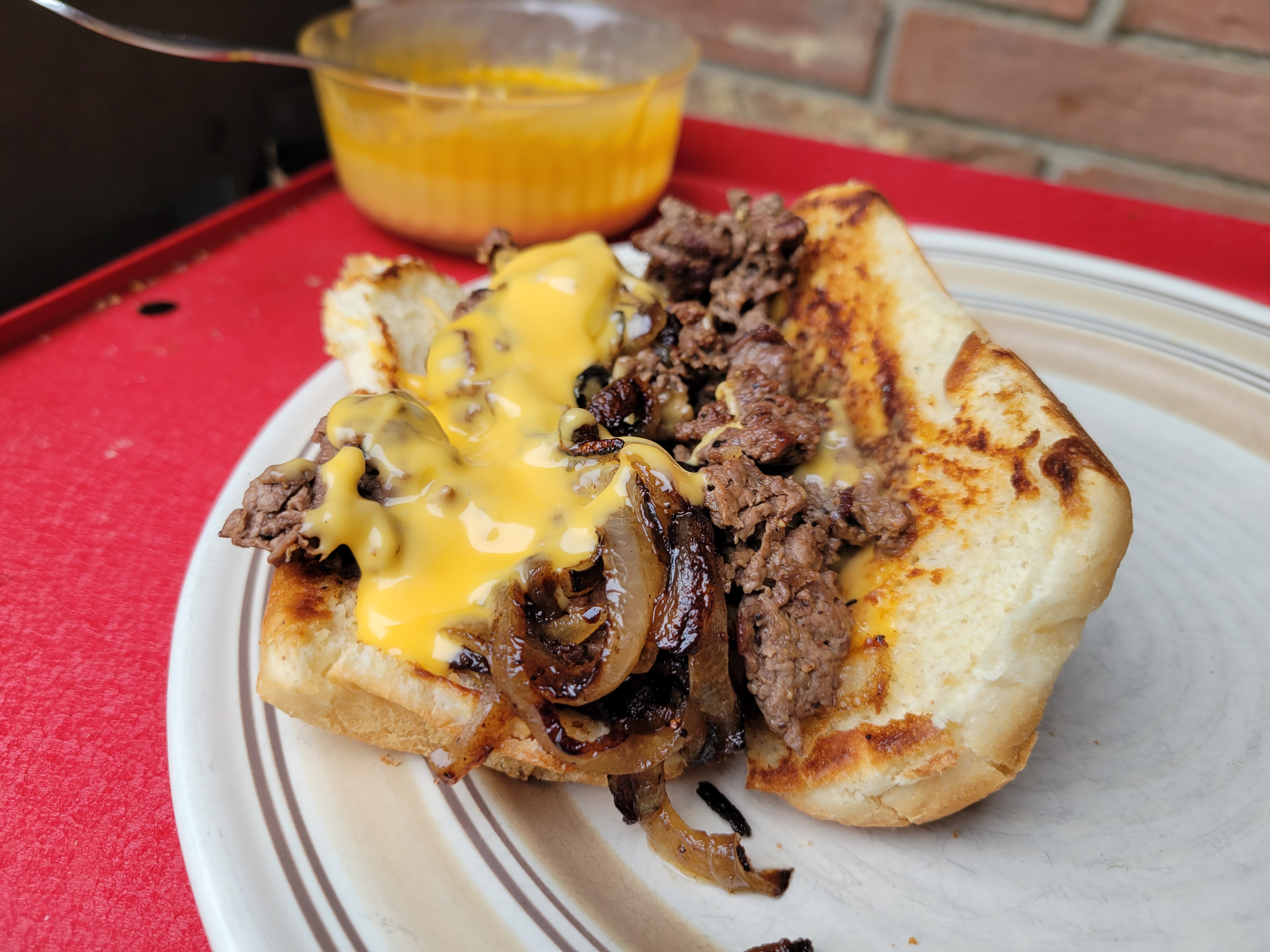 Total prep time: 10 minutes
Total cook time: 15-20 minutes
Serves: 4-6
Ingredients:
1 large venison roast (~1-2lbs)
Liquid cheese or sliced Provolone
1-2 yellow onions (optional)
1 8oz container sliced mushrooms (optional)
Hoagie rolls
Seasoning/Rub of choice
Olive Oil
1 tbsp butter
Directions
Start by slicing your venison roast super thin. Its best to slice when the meat is still semi frozen. Using a knife, slice or dice your onions (your preference). Season everything with salt and pepper or the steak seasoning of your choice.
For the liquid cheese, remove the lid and add the jar to a small saucepan with just a little bit of water, over medium heat, so that it warms thoroughly in a water bath. When you are ready to assemble, you can remove the cheese from the water bath.On your flattop or in your skillet, preheat to medium-high. Before adding your meat, add just a little olive oil and spread it around for a good even coating, and then drop the meat in. Proceed to chop it up and move it around so that it all cooks evenly and fast, as this will help keep it tender. Meanwhile, in another part of the flattop or on another skillet, sauté your onions and mushrooms with butter, also over medium-high, adjusting heat accordingly so you do not burn your onions.
Once your meat is cooked through, you can decide to add onions and or mushrooms to the meat or add it on top if you have others who don't want that on their cheesesteak. You can add your cheese to the mixture before assembling or wait until it's on the hoagie roll, which you can toast with a little butter on the flattop or in the skillet if desired. Serve with some nice homemade french fries, or just roll with tater tots from a bag!
--Wild Game Cook