Rocky Mountain Elk Foundation Support
As the Official Sponsor of the Rocky Mountain Elk Foundation (RMEF), MidwayUSA believes in supporting organizations whose efforts help restore and preserve the habitats of all hunt‐able game. With the recent launch of the elk restoration project in the company's home state of Missouri it's as important as ever to help organizations like the RMEF achieve their overall mission of conversation, restoration and educationof our countries wildlife and habitats.
RMEF Chapter Events
RMEF has over 500 chapters in the United States with more than 10,000 volunteers. Chapters hold a variety of events around the country that raise funds, perform conservation projects and promote our hunting heritage and the RMEF mission. A highlight is each chapter's annual Big Game Banquet where fun and fundraising combine for a memorable evening. Good food, camaraderie and a high energy auction form the backdrop for the night.
Find a chapter event in your area
Become a Member of RMEF Today
Your support of the RMEF helps fund our conservation and hunting heritage efforts across North America's elk country. All memberships include a subscription to Bugle magazine, invitations to local fundraising events and other membership benefits. MidwayUSA is proud to partner with the RMEF. Please help us conserve the future of elk habitat and hunting with your membership today!
Visit rmef.org for more information and to join today!
Elk in Missouri
Missourians got to say "Welcome Home", after a 150‐year absence, to thirty‐four wild elk in May 2011 after a trailer brought the heard from Kentucky and released them into a holding pen at the Peck Ranch Conservation Area. Following an acclimation period, the elk – including five new claves – were released into the wild in June to roam the rugged hills and valleys of the 346‐square‐mile elk restoration zone spanning parts of Shannon, Carter and Reynolds counties. The Missouri Department of Conservation plans to release up to 150 elk in the future, as well as hold a limited hunting season once the herd is well established. RMEF provided $300,000 for trapping, disease testing and transportation costs, while RMEF members played a huge role in returning elk to Missouri, including spending countless hours calling and writing state legislators to get their support for the reintroduction. Many were also on hand to help prepare the release siteand construct the holding pens on the Peck Ranch (Source: Elk Restoration, RMEF).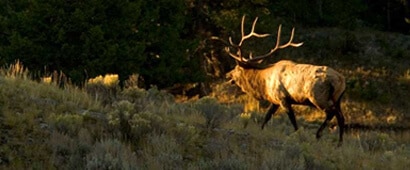 MidwayUSA Supports the RMEF

Shooting Access for Everyone (SAFE)
Since 2010, MidwayUSA owners Larry and Brenda Potterfield have donated over $200,000 to the RMEF to support the creation of RMEF's SAFE (Shooting Access for Everyone) Challenge, a program designed to help introduce youth to firearm safety and the hunter's role in conservation. At SAFE challenges, youth will learn general and home firearm safety, basic firearm components, safe shot zones and target identification, common shooting positions, wildlife conservation and the North American Wildlife Conservation Model.
For more information about SAFE

Team Elk
Now in its second season, RMEF Team Elk is a TV series about all things elk, elk country and elk hunting. Named for the 185,000 RMEF members, Team Elk features some of the greatest landscapes in North America. From the traditional aspen wrapped meadows of the Colorado Rockies to the high deserts of New Mexicoto the classicbig sky country of Montana… elk country is the backdrop for each episode. A 26‐week series, Team Elk features celebrity hunters like MidwayUSA's Founder and Chairman of the Board Larry Potterfield to military heroes and everyday folks who together, are working hard to conserve habitat, restore elk herds and celebrate America's hunting heritage. In 2011, RMEF Team Elk received an Outdoor Channel Golden Moose Award for Fan Favorite in a New Series.
For more information about Team ELK
Youth Wildlife Conservation Experience (YWCE)
Launched at Elk Camp in 2012, the YWCE, founded by Larry & Brenda Potterfield, provides funding for local highschool students to attend conservation conventions such as this to learn about the positive aspects of Shooting and Hunting. This innovative program will change the future by getting thousands of young people exposed to the shooting sports industry.
About RMEF
Company Overview
In 1984, four hunters from Northwest Montana recognized a handful of organizations doing great work for species like ducks, turkeys and upland birds. They also recognized there was no group dedicated to North America's grandest big game animal, elk. In May of that year, they pooled their time, talent and resources and created the RMEF, an organization dedicated to elk, elk hunting and the habitat they need to thrive. Since then, we've grown to over 184,000 members whose support has protected and enhanced more than 6 millions of acres of North American wildlife habitat. Hundreds of thousands of these acres were completely offlimits to the public. They are now open for all to hunt, fish and otherwise enjoy. We employ more than 120 people and boast more than 10,000 volunteers working through 500 chapters across the United States. From the most humble beginnings in 1984, the RMEF has risen to become one of the most effective and efficient conservation organizations in the United States. Today, working together with members, volunteers, and partners as Team Elk, the RMEF is striving to conserve the next million acres of elk country, and to be a strong voice for hunters, access, and wildlife management and conservation issues
Mission
The mission of RMEF is to ensure the future of elk, other wildlife, their habitat and our hunting heritage. In support of this mission the RMEF is committed to:
Conserving, restoring and enhancing natural habitats;
Promoting the sound management of wild, free‐ranging elk, which may be hunted or otherwise enjoyed;
Fostering cooperation among federal, state, tribal and private organizations and individuals in wildlife management and habitat conservation; and
Educating members and the public about habitat conservation, the value of hunting, hunting ethics and wildlife management.
Fast Facts
Acres Protected and Enhanced
More than 6.2 million acres
Number of Acres Opened or Secured for Public Access for Hunting and Other
Outdoor Recreation
More than 641,000 acres opened and secured
Number of Permanent Land Protection, Habitat Stewardship, Elk Restoration, Conservation Education and Hunting
Heritage Projects
More than 8,000 projects
Areas Where We've Restored Long ‐
Absent Elk Populations
Kentucky – Eastern coal fields
Missouri – Peck Ranch Conservation Area
North Carolina – Great Smoky Mountains National Park
Ontario – Various locations
Tennessee – Cumberland Plateau
Virginia – Buchanan County
Wisconsin – Chequamegon‐Nicolet
National Forest
Number of Members
More than 185,000
Number of Chapters
More than 500 in the United States
Number of Volunteers
More than 10,000