Introduces
Hardline Rifle Scopes

The Hardline Breakdown
The HardlineTM Series of optics are packed with features. Below is a quick visual of different features available in each line.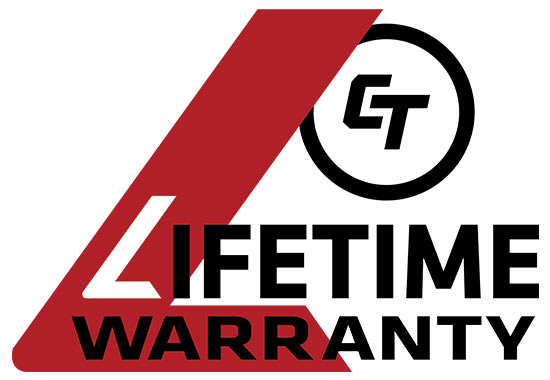 At Crimson Trace®, we back our scopes with a LIFETIME WARRANTY. We stand strongly behind our products because we put them through some of the harshest tests in the industry. Crimson Trace® will repair or replace a damaged scope at no charge to you—whether you are the original owner or not.
No

proof of ownership.
No

warranty cards.
No

time limits.
It's

that

simple.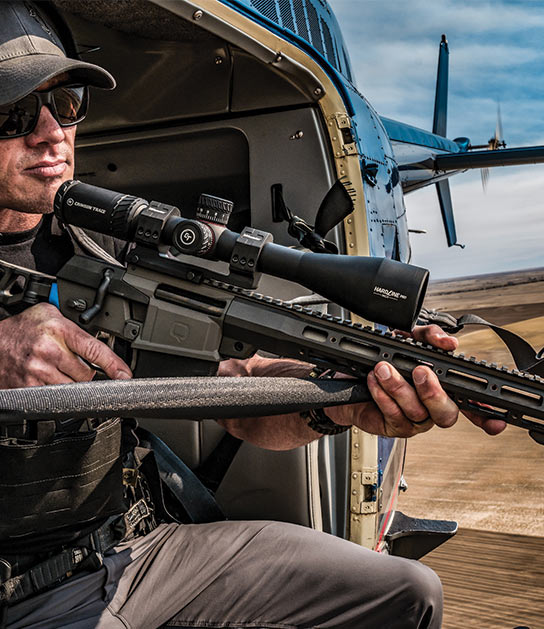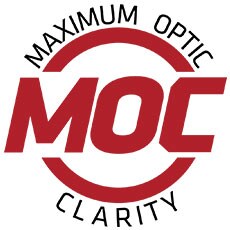 Every Crimson Trace® Riflescope is fully multi-coated with our proprietary MOC lens coatings. These coatings are engineered to enhance performance in each series of Riflescopes. By optimizing the light that passes through the optical system, the resulting image is sharp, natural, and glare-free. Additionally, these coatings provide a protective armor against adverse environmental conditions the scope will experience through its service life.
What MOC does:
Scratch Resistance
Glare Reduction
Color Correction
Enhances Light Transmission
Increases Clarity & Resolution
Improves Low Light Performance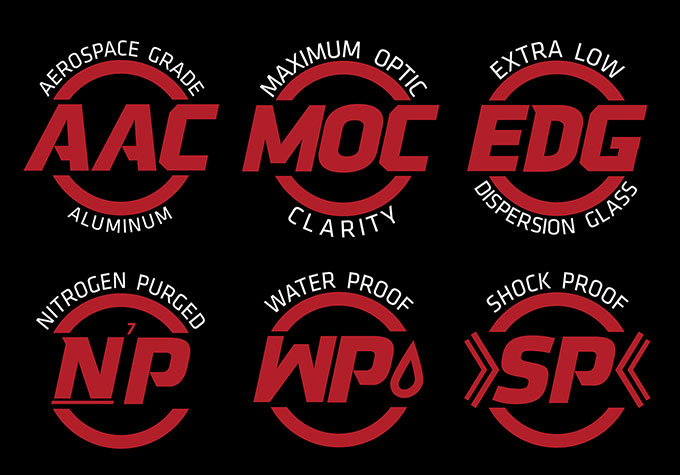 All Crimson Trace® scopes are engineered to withstand the most abusive and extreme conditions. Every CT scope has these best-in-class features.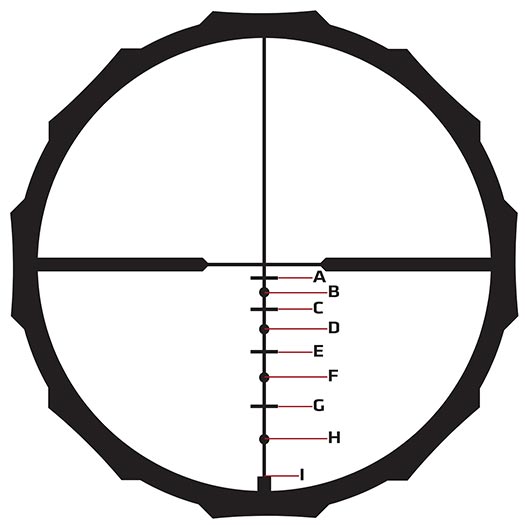 CT Custom Reticles
Each Bullet Drop Compensation (BDC) reticle comes pre-calibrated with holdovers built for a specific caliber and ammunition. These diagrams and holdovers come in a reticle guide with each scope package. The Hardline™ and Hardline™ Pro scopes come with BDC, Caliber-Specific BDCs, Plex, and MOA/MIL reticles.
Featured: .223/5.56 BDC
Subtensions for yardages were calculated using the following variables.
NOTE: All subtensions are calculated at MAX magnification.
Caliber: .223
Muzzle Velocity (fps): 3,165
Bullet Weight (gr): 55
Ballistic Coefficient (G1): 0.246
Zero Range (yd): 100
Temperature (F): 59°
Altitude (ft): 2,500
Scope Height Over Bore (in): 2.50
| | | |
| --- | --- | --- |
| Subtension | Yards | MOA |
| A | 200 | 0.99" |
| B | 250 | 2.03" |
| C | 300 | 3.28" |
| D | 350 | 4.73" |
| E | 400 | 6.38" |
| F | 450 | 8.26" |
| G | 500 | 10.37" |
| H | 550 | 12.78" |
| I | 600 | 15.50" |
HardlineTM Reticles
Our Hardline™ reticles have years of study and design behind them. After consulting top experts in multiple fields, we have settled on 10 options that will enhance the shooting experience for enthusiasts of every discipline.
CT

BDC .223/5.56 Pre-calibrated: 223 Remington®

CT

BDC Blackout Pre-Calibrated: .300 AAC BLACKOUT (subsonic & supersonic ammo)

CT

BDC Long Range Pre-Calibrated: .308 Winchester®

CT

Plex

CT

mr1-mil range formula equations

CT

mr1-moa range formula equations

CT

mildot range formula equations

CT

competition

illuminated

Pre-calibrated: .223 Remington®

CT

mr1-mil

illuminated

range formula equations

CT

mr1-moa

illuminated

range formula equations