MidwayUSA Launches Mobile Website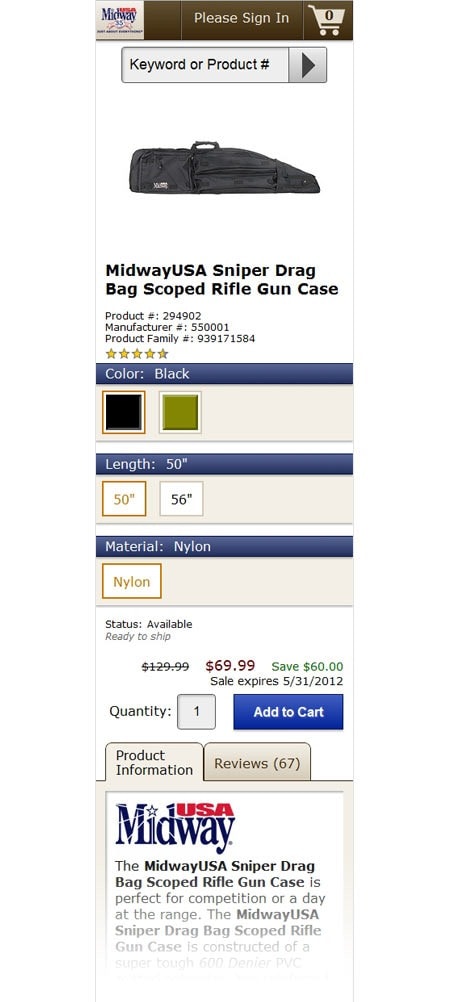 by MidwayUSA

Columbia, MO -

MidwayUSA's Vision is to be the "best-run business in America" for the benefit of its Customers. This includes same day shipping, friendly service and a website that makes the Customer's shopping experience fast and user friendly. In an effort to improve the shopping experience for all MidwayUSA Customers, a new mobile website has been launched and is now available.

Having the best-run business requires the best-run website, and the team at MidwayUSA has been busy creating a new version of its website for Customers who are shopping while away from their home computers. Supporting all major mobile platforms, such as Apple and Android, Customers can access over 100,000 products anytime on their smart phones.
"The purpose of developing the mobile site was to improve the experience of our website for MidwayUSA's mobile Customers," said Vice President of eCommerce Adam Ray. "Because mobile screen sizes are smaller than typical displays, our new mobile site makes it easier for Customers to shop when they are on the go."
New products, sale items and clearance products are accessible on this mobile site as well as all the features Customers count on when searching at home. View the product description, text, photo, overall rating, sizes, available colors, price and more! After adding products to the cart, edit quantities, enter promotion codes and get ready to check out.
"I think our Customers are really going to like this new mobile website," said MidwayUSA Founder and CEO Larry Potterfield. "It's important to me that MidwayUSA provide an extremely user friendly web experience to every Customer no matter if they are at home or on the go. For our Customers who need the full functionality of our website, they can still use it by pressing the "Full Site" link found at the bottom of the page."
Contact:
MidwayUSA Public Relations
pr@midwayusa.com
Topics: MidwayUSA | Mobile Website