MidwayUSA Recognized by Missouri Department of Conservation Commissioners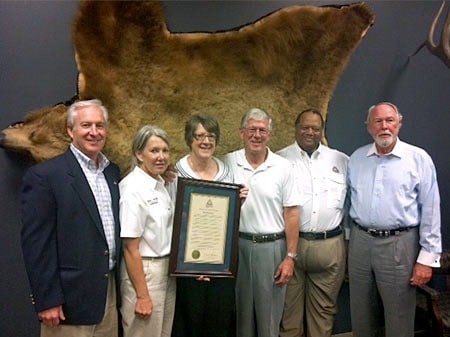 by MidwayUSA

Columbia, MO -

On Thursday, July 12th, the members of the Missouri Department of Conservation Commission were at MidwayUSA to present owners Larry andBrenda Potterfield a Proclamation for 35 years of serving Customers and promoting conservation.

Because of MidwayUSA's continued support of the shooting sports industry,wildlife conservation, preservation and hunter safety programs, the Missouri Department of Conservation (MDC) felt MidwayUSA deserved to be recognized with this Proclamation.
"This Proclamation is a direct result of the support we've received from our Customers since we started the business back in '77," said Larry Potterfield. "Everyone at MidwayUSA is dedicated to our Customers, to giving back to the industry and to our community."
In 2010, MidwayUSA also received the Conservationist of the Year award (see link below), the highest award given by the Conservation Federation of Missouri, for the efforts they have taken to promote conservation and the use of natural resources. This is one of the many accomplishments listed in the Proclamation.
(https://www.midwayusa.com/general.mvc/index/press_releases~potterfields-announced-as-cfm-conservationist-of-the-year)
"Congratulations to MidwayUSA on celebrating 35 years in business and for your support ofconservation and the shooting sports," said Commissioner Don Johnson. "Partners like MidwayUSA help make conservation stronger inMissouri and throughout America."
For more information about the MDC, please visit https://mdc.mo.gov/ or call .
Contact:
Beth Cowgill
MidwayUSA Public Relations
pr@midwayusa.com