Are you attending the "Most Dangerous Game in Town"?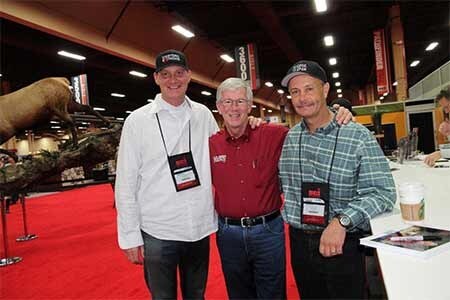 by MidwayUSA

Columbia, MO -

As one of the Corporate Sponsors, MidwayUSA owners Larry and Brenda Potterfield will be there to take part in the festivities. The 2013 Safari Club International (SCI) Convention begins January 23 and runs through January 26 at the Reno-Sparks Convention Center in Reno, NV.

This year's Ultimate Hunters' Market is expected to be bigger and better than ever, with over 650,000 square feet of exhibits, seminars and entertainment
for all ages.
"The SCI convention has always one of our favorite shows to attend," said Larry Potterfield. "Brenda and I are excited to head back to Reno and hope to see lots of folks there."
Larry Potterfield will also be available to visit with show attendees Friday afternoon between 2:00 p.m. and 3:00 p.m. and again on Saturday morning between 10:00 a.m. and 11:00 a.m. at the Membership Booth just outside the entrance to Hall 2.
Several performers and VIPS are scheduled throughout the event including:
Mike Huckabee – Grand Opening and Wednesday Key Note Speaker
Travis Tritt – Wednesday Night Entertainment
Craig Bodington – Night of the Hunter, Thursday Night
Jim Shockey – Night of the Hunter, Thursday Night
Montgomery Gentry – Friday Night Entertainment
Dick & Liz Cheney – Saturday Night*
*MidwayUSA is proud to be the official sponsor of this event taking place Saturday night at the Peppermill Hotel Casino.
"Larry Potterfield and the entire MidwayUSA family have dedicated their lives to providing the highest quality hunting equipment to hunters around the world," said SCI President John Whipple. "As an international advocacy organization, we know that our partnership will protect hunting for future generations."
For more information about the SCI Convention, please visit www.showsci.org or call (520) 620-1220.
Contact:
Beth Cowgill
MidwayUSA Public Relations
pr@midwayusa.com