Bushnell Elite 3200 Tactical Scope Exclusively at MidwayUSA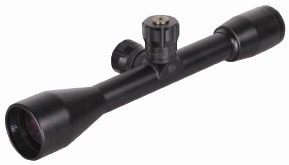 by MidwayUSA

Columbia, MO -

MidwayUSA, a catalog and Internet retailer offering Just About Everything® for Shooting, Reloading, Gunsmithing and Hunting, is pleased to announce the release of the Bushnell Elite 3200 Tactical 10x 40mm Rifle Scope, made exclusively for MidwayUSA.
"We are always improving our product selection at MidwayUSA so our Customers have the benefit of really great products at competitive prices," says Sean Doke, Optics Product Line Manager. "This year, we worked with Bushnell to meet the demands of our shooting Customers and created the Elite 3200 tactical scope."
This scope is built with 1/10 milliradian (Mil) windage and elevation turrets and a Mil-dot reticle, also known as Mil/Mil. The elevation and windage turrets each feature an impressive 23.5 mils of adjustment. This allows a shooter to quickly and accurately make sighting adjustments without having to convert to Minute of Angle (MOA).
The scope also directly pairs with the Bushnell Mil-Dot Spotting Scope which allows a spotter to instantly communicate how many mils of adjustment a shooter needs without any confusing guess work. This scope also features Bushnell's patented rain guard multi-coated lenses.
The MidwayUSA Bushnell Elite 3200 Tactical Rifle Scope was designed for the precision shooter.