Industry Leaders win Lynn Boykin Hunting Heritage Award from NWTF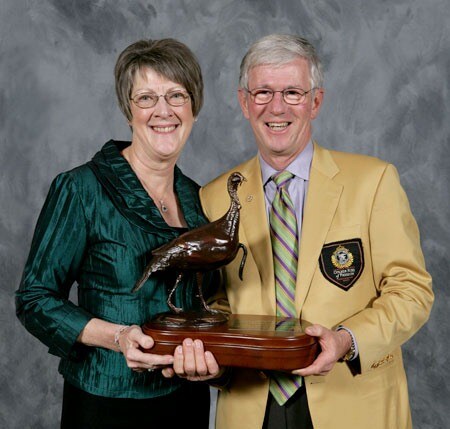 by MidwayUSA

Columbia, MO -

The Potterfields have dedicated their lives to generously supporting the hunting and shooting sports industry. In recognition of their life long service, the National Wild Turkey Federation (NWTF) honored them with the Lynn Boykin Hunting Heritage Award at their awards banquet on Saturday, February 11.
"Lynn Boykin devoted her life to educating others on the importance of our hunting heritage," said Founder and CEO of MidwayUSA Larry Potterfield. "She was a great leader not only for the NWTF, but for our entire industry. Brenda and I are honored to accept this award from the NWTF."
The Lynn Boykin Hunting Heritage Award is named after the late Lynn Boykin, a former president and chairman of the board for the NWTF. During her tenure, she emphasized the importance of hunting heritage and this award celebrates individuals who take the lead in celebrating and preserving the hunting and shooting heritage. Previous recipients have included Charlton Heston, Curt Gowdy and Johnny Morris of Bass Pro.
"Larry and Brenda Potterfield are the embodiment of the Lynn Boykin Award," said NWTF CEO George Thornton. "Thanks to the Potterfield's generosity and dedication to the shooting sports and hunting, more young people will have the chance to try shooting sports, and may discover a passion they will enjoy for the rest of their lives. Larry and Brenda will help the NWTF solidify the future of shooting sports and our hunting heritage in America."
For more information about the NWTF, please visit their website or call 800-843-6983.
Contact:
MidwayUSA Public Relations
pr@midwayusa.com