Larry and Brenda Potterfield Named 2010 CFM Conservationists of the Year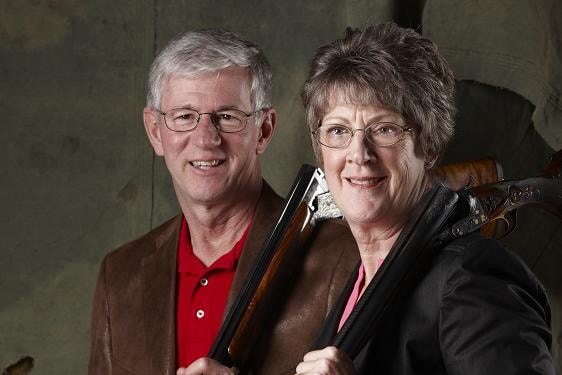 by MidwayUSA

Columbia, MO -

MidwayUSA, The Conservation Federation of Missouri (CFM) named Larry and Brenda Potterfield ofMidwayUSA as the 2010 Conservationists of the Year, the organization's highest honor.

On February 25, 2011, Ann Kutscher, awards committee chair and former CFM president, presented this highly regarded honor to Larry and Brenda Potterfield at a ceremony at The Lodge of Four Seasons in Lake Ozark, MO. The Conservationist of the Year award is presented by the CFM and based on overall conservation effort and achievement or the most significant contribution to the cause of conservation or toward solution of a major conservation problem in Missouri during the year. In CFM's 75-year history, other esteemed conservationists, such as Glenn Chambers, Chuck Drury, Howard Wood, Ted Jones and Andy Runge, received this same award.

Established in 1935, the CFM was organized to remove conservation from politics. The CFM's original initiative resulted in the creation of the Missouri Department of Conservation, a non-political conservation agency that has been a model for other state conservation departments. Today CFM is the largest and most representative conservation group in Missouri, with 80 organizations and over 93,000 members, and serves as the Missouri affiliate of the National Wildlife Federation.

For years, the Potterfields' leadership and support have benefited many organizations, including Friends of the NRA, the Wild Sheep Foundation, the Mule Deer Foundation, the National Wild Turkey Federation, the Rocky Mountain Elk Foundation, Safari Club International and Dallas Safari Club. They have also supported CFM's Share the Harvest Program.
Larry Potterfield,Founder and CEO of MidwayUSA remarked, "Brenda and I are extremely honored to receive such an award, but that's not why we support these organizations. Dad taught me to hunt and fish when I was just a kid, and Brenda and I are passionate about sharing our love for the outdoors and our hunting heritage with our kids and grandkids. We support conservation, and the Conservation Federation of Missouri, because we can and because we should to help change the future."