MidwayUSA Attends the 2012 Dallas Safari Club Convention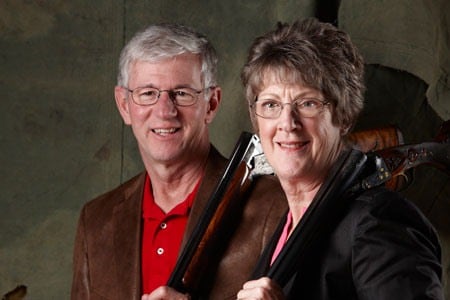 by MidwayUSA

Columbia, MO -

Columbia, MO - Larry and Brenda Potterfield, Founders of MidwayUSA, are in Dallas, TX this weekend attending the 2012 Dallas Safari Club (DSC) annual convention as the Official Sponsor of the show. The convention and sporting expo show began Tuesday, January 3, 2012 with exhibitor registration and move-in, and ends Sunday, January 8th at the Dallas Convention Center and Hyatt Regency in Dallas, TX.

Between the usual hustle and bustle of exhibits, seminars and silent auctions, the Potterfields will be attending the first annual Youth Wildlife Conservation Experience (YWCE) at the convention on Friday, January 6. This event is offered to high school students in the Dallas Ecological Foundation's (DEF) Outdoor Adventures Education program. At the YWCE, students will hear from professional guides, biologists and outfitters regarding wildlife conservation.

"Recruitment of the next generation of outdoorsmen and women is our biggest challenge to maintaining our hunting heritage," said Ben Carter, Executive Director of the DSC. "Larry and Brenda's gift has enabled us to bring 400 kids to our show and truly create a positive and educational experience in what the outdoors is all about. We could not have done this without their support."

In addition to his appearance at the YWCE event, Larry will present the Educator of the Year award during the Friday night dinner and auction. He will also spend some time at the DSC membership booth Saturday, January 7th at 10:00am in the exhibit hall.

"Brenda and I are extremely excited to attend this year's convention," said Larry Potterfield, Founder and CEO of MidwayUSA. "Please meet us at the show and join in the efforts to preserve our hunting traditions."

MidwayUSA (https://www.midwayusa.com) is a family-owned catalog and internet retailer specializing in JUST ABOUT EVERYTHING® for Shooting, Reloading, Gunsmithing and Hunting. Now celebrating our 35th Anniversary, Larry and Brenda Potterfield turned their passion for shooting sports into a career in 1977 by opening a small retail firearms store that would eventually become MidwayUSA. MidwayUSA is still owned by the Potterfield Family and Customer Satisfaction is still our Number One Goal.

For more information about MidwayUSA, please visit our website or call 800-243-3220.

For more information about the DSC, please visit www.biggame.org or call 972-980-9800.