MidwayUSA Attends the 2012 Wild Sheep Foundation Convention as the Official Sponsor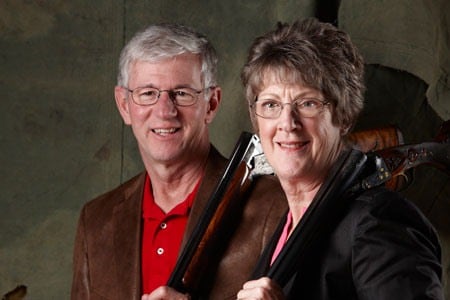 by MidwayUSA

Columbia, MO -

Known across the industry as the "Sheep Show", Larry and Brenda Potterfield, Founders of MidwayUSA, are in Reno, NV this weekend attending the annual Wild Sheep Foundation (WSF) convention as the Official Sponsor of the show.

MidwayUSA has been the Official Sponsor of the WSF since 2009. This year, through an exceptional gift from the Potterfields, the WSF will launch the inaugural MidwayUSA/WSF Youth Wildlife Conservation Experience (YWCE) during the convention in Reno. This hands-on three day youth event, made possible through the Potterfield's vision and generosity, and the dedicated support of volunteers from throughout the industry, will enable nearly 400 youths from the Reno-Sparks region to experience the shooting sports, conservation, fishing, wildlife management principles and learn outdoor skills during the WSF's annual "Sheep Show."
"You cannot find a more dedicated couple than Larry and Brenda Potterfield to help pass on the shooting and outdoor legacy to the next generation, or a more dedicated company to the entire hunting, shooting sports and conservation industry than their award winning company, MidwayUSA," said Gray N. Thornton, President & CEO. "Thank you Larry and Brenda and the entire MidwayUSA team for ensuring that our outdoor legacy lives on!"
In between visiting over 400 exhibitor booths, Larry Potterfield will also be greeting Customers Saturday afternoon at the WSF membership booth inside the Reno-Sparks Convention Center. Larry will also be the key note speaker at the finale banquet and auction Saturday evening.
The "Sheep Show" promises something for every member of your family. In addition to world class exhibitors, the show features free seminars (with paid admission) from industry experts, silent auctions, breath taking wildlife displays and raffles. It is open to the public with a minimal fee, with kids under 12 receiving free admission.
MidwayUSA is a family-owned catalog and internet retailer specializing in JUST ABOUT EVERYTHING® for Shooting, Reloading, Gunsmithing and Hunting. Now celebrating our 35th Anniversary, Larry and Brenda Potterfield turned their passion for shooting sports into a career in 1977 by opening a small retail firearms store that would eventually become MidwayUSA. MidwayUSA is still owned by the Potterfield Family and Customer Satisfaction is still our Number One Goal.