MidwayUSA Attends the Youth Wildlife Conservation Experience at the "Sheep Show"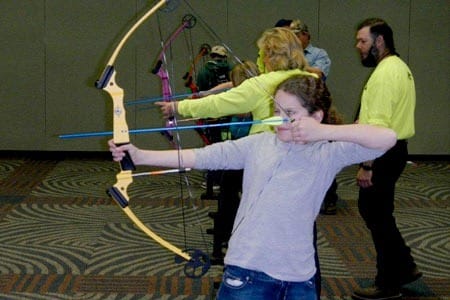 by MidwayUSA

Columbia, MO -

A program designed to educate youth on the promotion of wildlife conservation, the YWCE event at the Wild Sheep Foundation (WSF) "Sheep Show" in late January offered Reno youth a three day hands-on event that introduced them the shooting sports, fly-tying, archery, wildlife management and conservation.
"As parents, grandparents and educators of tomorrow's leaders, it's our responsibility to educate our youth on the importance of hunting, shooting and wildlife conservation," said Founder and CEO of MidwayUSA, Larry Potterfield. "The YWCE program allows key conservation programs and local educators to enhance kid's awareness and provide them with an opportunity to learn outdoor activities."
The YWCE program also allows them to learn the importance of wildlife management, hunting ethics and behavior and to strengthen youth's connection to natural resources.
"The Wild Sheep Foundation is grateful for the Potterfield's vision and generosity in launching this new initiative," said President and CEO of WSF, Gray Thornton. "The WSF will expand the YWCE each year from here on out and we look forward to developing this event and supporting the MidwayUSA Foundation's mission. This program gets younger boys and girls outdoors and helps teach the principles of wildlife conservation and stewardship. The future of wildlife and stewardship will depend on not only us, but future generations."
For more information about WSF, please visit their website or call 307-527-6261.
Contact:
MidwayUSA Public Relations
pr@midwayusa.com