MidwayUSA Awarded the 2008 Missouri Quality Award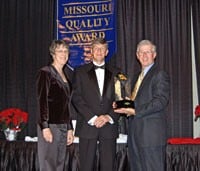 by MidwayUSA

Columbia, MO -

MidwayUSA, a catalog and Internet retailer and wholesaler with JUST ABOUT EVERYTHING® for Shooting, Reloading and Gunsmithing, is excited to announce winning the 2008 Missouri Quality Award (MQA).The Missouri Quality Award follows the Malcolm Baldrige National Quality Award criteria and is presented annually to high-performing, Missouri-based businesses by the Excellence in Missouri Foundation (EIMF). Larry Potterfield, Founder and CEO of MidwayUSA, accepted this award on behalf of MidwayUSA at the annual EIMF conference at Lake of the Ozarks in November.
Although MidwayUSA's first Company Goal is to Satisfy Customers, another Company Goal is to deploy Modern Management Practices, a goal which includes winning the Missouri Quality Award. "MidwayUSA is a learning organization and we strongly support the idea of continuous improvement" says Potterfield. "We are pleased to accept this award and the feedback report from the state to both recognize the company's achievement and to provide additional direction for our quality journey. Our participation in this process will better enable MidwayUSA to serve our Customers."
The EIMF was established in 1992 to generate performance excellence among all Missouri organizations and drive higher levels of quality in Missouri-produced goods and services. The Baldrige National Quality Program was established in 1987 to enhance the competitiveness, quality and productivity of U.S. organizations for the benefit of all residents. Both the Missouri Quality Award and the Malcolm Baldrige National Quality Award use the same criteria in providing feedback to companies regarding seven major categories - leadership; strategic planning; customer and market focus; measurement, analysis, and knowledge management; workforce focus; process management; and results.
For more information about MQA or the EIMP, please visit https://www.mqa.org.
For more information about the Baldrige National Quality Award, please visit https://www.nist.gov/baldrige/.