MidwayUSA Black Friday & Cyber Monday Sales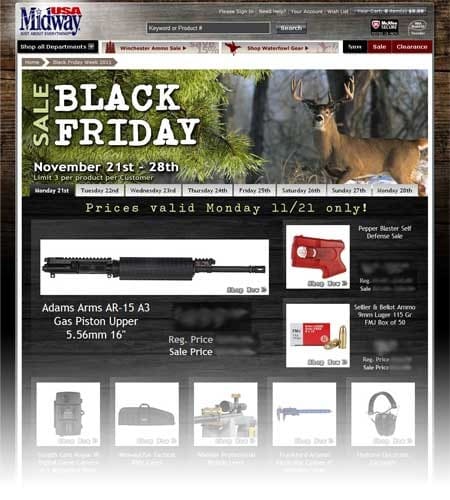 by MidwayUSA

Columbia, MO -

Columbia, MO - MidwayUSA, a catalog and Internet retailer offering JUST ABOUT EVERYTHING® for Shooting, Reloading, Gunsmithing and Hunting, is excited to release details about this year's Black Friday and Cyber Monday sales.

Instead of waiting until after Thanksgiving, MidwayUSA will be offering special, one-day only deals for Customers to celebrate the traditional Black Friday and Cyber Monday shopping days beginning Monday, November 21st through Monday, November 28th. Each day, Customers can take advantage of great deals on items like the always-popular Simmons Whitetail Classic Scope with Truplex Reticle, regular price $249.99, on sale for $94.99. The MidwayUSA Pro Series Tactical Rifle Cases will also be available half off at $34.99, and the Stealth Cam Rogue IR Digital 8.0 Megapixel Game Camera will be on sale for $69.99, regular price $139.99.
"This year's Black Friday and Cyber Monday sales offer nearly 100 different sale products for shooters, reloaders, gunsmiths and huntersj," said Terry Roberts, Promotions Manager at MidwayUSA. "Thanks to the close relationships we have with our vendors, we're able to offer our Customers some of the best products at our lowest prices ever."
For each day's special sale items, please visit www.midwayusa.com or call 1-800-243-3220.