MidwayUSA Declares September 4th Camo Tuesday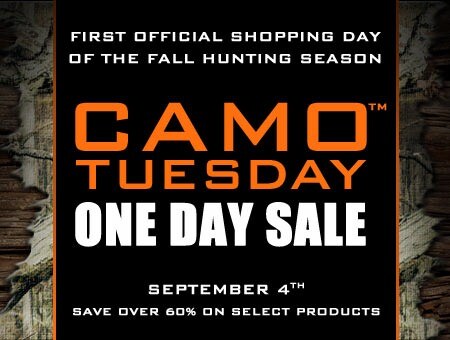 by MidwayUSA

Columbia, MO -

We've all heard of Black Friday, the official start of the Christmas shopping season. MidwayUSA is proud to introduce Camo Tuesday - the Official Start of the Fall Hunting Season. This one day sale features fantastic pricing, promotions and free shipping on tons of hunting items.

For one day only, Tuesday, September 4th, MidwayUSA Customers will have the chance to buy select hunting products at prices over 60% off retail.
"Why wait till after Thanksgiving for fantastic pricing and free shipping deals on hunting products?," said MidwayUSA VP of Merchandising Jeff Larkin. "Let's make the Tuesday after Labor Day, Camo Tuesday, the Official Start of the Fall Hunting Season and give traditional Black Fridaystyle promotions to our Customers now, instead of making them wait until November after many of the seasons are over."
Some of the featured brands include:
Horton
Ameristep
Sitka Gear
Rocky
Caldwell
Hornady
MidwayUSA
Primos
Thermacell
Simmons
LaserLyte
Streamlight
Flextone
Under Armour
Columbia
Browning
RNT
For exclusive early access to view the upcoming sale "Like" MidwayUSA's Official Facebookpage (www.facebook.com/OfficialMidwayUSA). You can also follow the #CamoTuesday hashtag on Twitter for all latest Camo Tuesday news.
Contact:
Beth Cowgill
MidwayUSA Public Relations
pr@midwayusa.com