MidwayUSA Donates Firearm Collection to the Youth Shooting Sports Alliance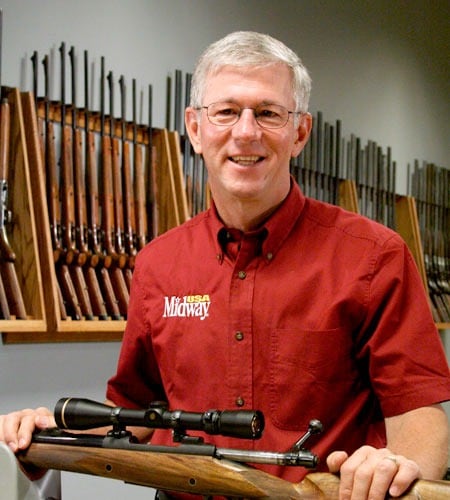 by MidwayUSA

Columbia, MO -

Columbia, MO - MidwayUSA recently donated over 500 rifles to the Youth Shooting Sports Alliance (YSSA), a developmental program that helps support youth education, hunting and shooting.
"MidwayUSA will continue to be a non-stop supporter of youth hunting, shooting and hunter's education," says Larry Potterfield, Founder and CEO of MidwayUSA. "We believe in supporting programs whose mission is to preserve the future of youth shooting sports. The rifles we're donating to YSSA will be auctioned off and the proceeds will directly benefit their Equipment Loan Program."
In 2010, the YSSA developed a practical plan to organize and administer an industry-wide firearms loaner program for supporting youth programs. The inventory available for loan currently stands at nearly 400 firearms and includes rifles, shotguns and pistols. Because of the popularity of this program with Boy Scout Councils, 4-H and other shooting sports programs, the loaner inventory is expected to double by the summer of 2013.
"The majority of shooting sports equipment is needed by youth programs for limited or seasonal use," said Steve Miller, Executive Director of YSSA. "Equipment may be intensively used during selected seasons and languish in storage for the remainder of the year. This noteworthy donation in support of our Equipment Loan Program will allow the YSSA to provide more efficient support to youth shooting sports programs."
About MidwayUSA
MidwayUSA (https://www.midwayusa.com) is a family-owned catalog and internet retailer specializing in JUST ABOUT EVERYTHING® for Shooting, Reloading, Gunsmithing and Hunting. Now celebrating our 35th Anniversary, Larry and Brenda Potterfield turned their passion for shooting sports into a career in 1977 by opening a small retail firearms store that would eventually become MidwayUSA. MidwayUSA is still owned by the Potterfield Family and Customer Satisfaction is still our Number One Goal.
For more information about the YSSA program, please visit https://www.youthshootingsa.com.