MidwayUSA Donation Helps Keep Colorado Kids S.A.F.E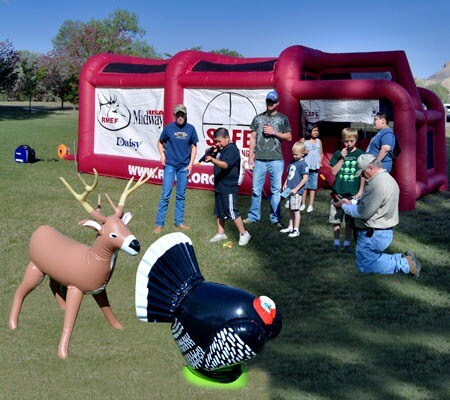 by MidwayUSA

Columbia, MO -

Since 2010, MidwayUSA owners Larry and Brenda Potterfield have donated over $200,000 to the Rocky Mountain Elk Foundation (RMEF) to support the creation of RMEF's S.A.F.E (Shooting Access for Everyone) Challenge, a program designed to help introduce youth to firearm safety and the hunter's role in conservation. One RMEF chapter in Colorado recently hosted a S.A.F.E event and shared their successful turnout with MidwayUSA.

During the weekend of April 28th, the Grand Junction Colorado chapter of RMEF invited guests from two counties and four school districts to participate in the 4th Annual Outdoor Heritage Day at Riverbend Park in Palisade, Colorado. Over 2,200 people attended this event that was made possible with donations from the Potterfield family.
"The S.A.F.E program is a great way to keep kids happy and provide them with some gun safety and shooting experience," said Colorado RMEF Volunteer Co-Chair Art Graham. "We have been involved with this event since it started five years ago when only 87 kids showed up. The long lines around the shooting events this year were evidence these kids wanted to learn how to shoot and safely."
There ended up being over 600 children in attendance this year, ranging in ages two to sixteen. Volunteers spent time helping the kids learn about firearm safety and gave them the opportunity to shoot everything from NERF guns to rimfire rifles.
What is the S.A.F.E Challenge?
A free course offered by RMEF to introduce youth to firearm safety and educate new comers about the hunter's role in conservation. Each event includes a trained S.A.F.E mentor and a qualified volunteer instructor for each youth participant. While at the S.A.F.E Challenge, youth will learn general and home firearm safety, basic firearm components, safe shot zones and target identification, common shooting positions, hunting as a conservation and wildlife management tool and the North American Wildlife Conservation Model. For more information on RMEF's S.A.F.E program, please visit their website or call Lauren Hummel at 800-CALL-ELK Ext. 236.
Contact:
MidwayUSA Public Relations
pr@midwayusa.com