MidwayUSA Expands Archery Category to include Bows, Crossbows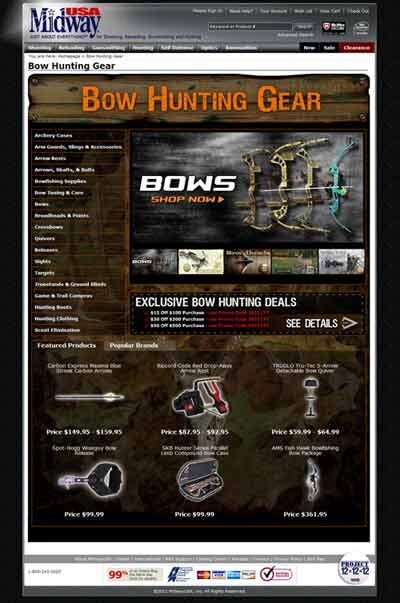 by MidwayUSA

Columbia, MO -

MidwayUSA, a catalog and Internet retailer offering JUST ABOUT EVERYTHING® for Shooting, Reloading, Gunsmithing and Hunting, is pleased to announce an expanded Archery Category, including hunting bows, bowfishing bows and crossbows. The new archery category may be viewed online at midwayusa.com/archery.

Bow brands now available from MidwayUSA include AMS Bowfishing , Bear Archery, PSE and Quest. In addition to new bows, MidwayUSA also carries crossbows from Barnett, Carbon Express, Excalibur, Horton, Inferno, Parker, PSE, TenPoint and Wicked Ridge. Bows, crossbows and accessories are immediately available from MidwayUSA.
"Over the past five years, MidwayUSA has offered Customers a wide selection of hunting products. In fact, we currently offer over 8,000 hunting products from over 250 different brands," says Bob McNulty, Hunting Product Line Manager. "We're excited to expand our archery lineup with the launch of hunting bows, bowfishing bows and crossbows from some of the most respected manufacturers in the industry. Every member of our hunting team is a dedicated bow hunter and we want to satisfy Customers by carrying the products they want and use in the woods. We've used our passion and experience to expand our selection of archery products we believe Customers are looking for."
Bowhunters will find MidwayUSA also offers a large selection of treestands, blinds, camo clothing, Footwear, arrows, Broadheads and trail cameras. In fact, MidwayUSA has JUST ABOUT EVERYTHING® for Hunting.
"We started selling hunting gear in 2007 and a limited number of archery products in 2010, and since then, Customers have asked MidwayUSA about expanding our selection of archery gear," says Larry Potterfield, Founder and CEO of MidwayUSA. "Customers tell us they love our wide product selection and quick shipping and we're excited to bring these values to our expanded line of archery products."
For more information about the expanded archery product line, please visit midwayusa.com/archery.