MidwayUSA Introduces Affordable Pistol Cases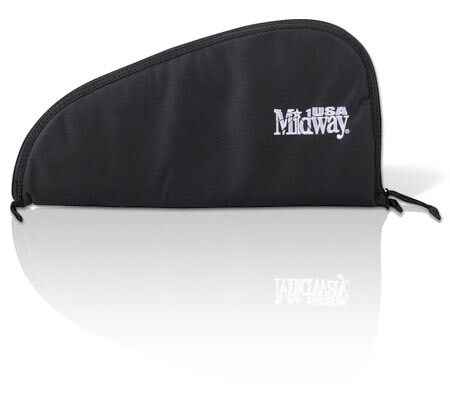 by MidwayUSA

Columbia, MO -

MidwayUSA, a catalog and Internet retailer offering Just About Everything® for Shooting, Reloading, Gunsmithing and Hunting is excited to announce the release of a new line of MidwayUSA Pistol Cases.
"MidwayUSA is excited to have our name on such a quality product," says Jeff Larkin, vice president of Merchandising at MidwayUSA. "Whether you're a seasoned competitor or a recreational shooter, these cases are great for everyone. We have worked hard to be able to offer these high-quality, durable cases with great features at a great price."
MidwayUSA offers a standard pistol case design as well as a tactical design. The standard pistol case is offered in a 10" or 15" black PVC coated polyester with closed foam cell padding in the tear-drop shape. The zipper is designed to lay flat when open. Retail Price $5.99 – $6.99.
The Tactical Pistol Case is designed to match the needs of serious shooters and competitors. It measures 9" x 14" with 2 zippered pockets and 7 external magazine pouches. The built-in two-strap, wrap-around web handle allows the shooter to effortlessly carry everything needed for a successful range session or match. This case is also made of black PVC coated polyester with closed foam cell padding. The inside is roomy making it easy to include extra ammunition or supplies. Retail price $14.99.